UACCB Celebrates the Success of Practical Nursing Students at Pinning Ceremony
Posted Date - 8/1/23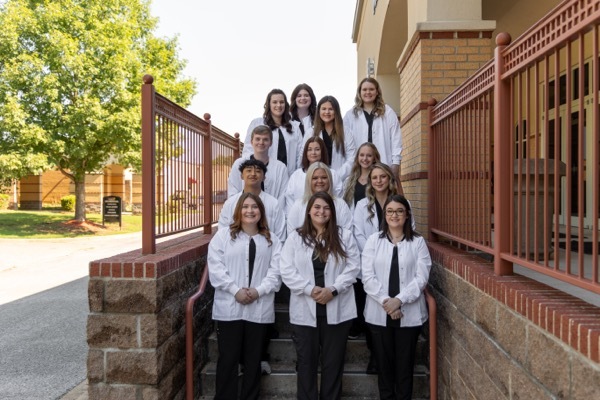 The University of Arkansas Community College at Batesville (UACCB) hosted a Practical Nursing Pinning Ceremony on July 21, 2023, to honor the graduating class of 2023. Thirteen graduates were celebrated during the event for their achievements and dedication to the nursing profession.
The graduates recognized during the pinning ceremony were Morgan Case, Jorge Cervantes, Kiley Davis, Katelynn Edington, Kenlee Gallegly, Brittany Harmon, Madison Hubbard, Sarah Knowles, Fallon Lewis, Dani Moore, Mason Pedigo, Gracie Pretty, and Abigail Sullivan.
Ms. Becky Warren, Dean of Health Professions, commended the graduates for their hard work and commitment throughout their nursing education saying, "Congratulations to the Class of 2023 on reaching this significant milestone in their nursing journey. The students' dedication and perseverance are truly admirable, and I have no doubt they will make a positive impact in the lives of many as they embark on their nursing careers."
The pinning ceremony marked their transition from the academic environment to the practical aspects of nursing. UACCB's Practical Nursing Program continues to produce skilled healthcare professionals, and the Class of 2023 is expected to make a positive impact in the field of healthcare.
The UACCB Practical Nursing Licensure Examination pass rate for 2023 is 75%, as reported by the Arkansas State Board of Nursing.