UACCB announces 2022-2023 graduates
Posted Date - 5/16/23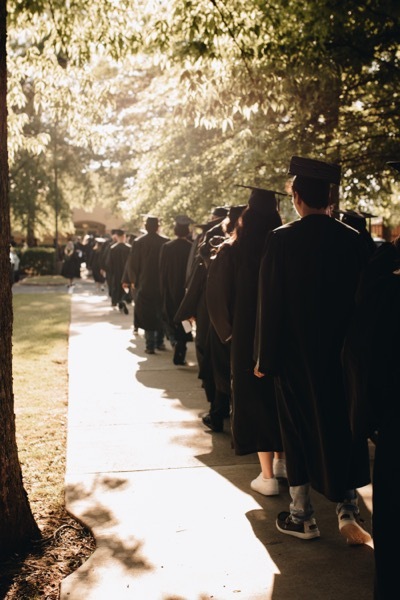 The University of Arkansas Community College at Batesville is pleased to announce the 2022- 2023 graduates. In total 428 students representing 72 different cities completed 667 degrees from 54 different programs. Additionally, 56 students earned Arkansas High School Diplomas.
The full recording of the ceremony can be found at www.uaccb.edu/live.
Honor graduates are denoted as summa cum laude (cumulative grade point average of 3.9 or higher) magna cum laude (cumulative GPA of 3.75 to 3.89) and cum laude (cumulative GPA of 3.5 to 3.74).
Graduates are as follows:
UACCB Class of 2023
Oluwamuyiwa A. Adeegbe
Certificate of Proficiency Computer Technology
Certificate of Proficiency Cyber Security Fundamentals
Zuri Aguirre
Certificate of Proficiency Health Professions
Hannah L. Alder, Magna Cum Laude
Technical Certificate Agriculture Technology
Certificate of Proficiency Agriculture Business
Certificate of Proficiency Animal Science
Certificate of Proficiency Plant Science
Certificate of Proficiency Soil Science
Lindley S. Alder
Certificate of Proficiency Animal Science
Certificate of Proficiency Plant Science
Certificate of Proficiency Soil Science
Chaney D. Allen
Associate of Arts General Education
Associate of Science Health Professions
Technical Certificate Health Professions
Certificate of Proficiency Health Professions
Logan H. Allen
Certificate of Proficiency Welding
Tina M. Allen
Certificate of Proficiency Health Professions
Phillip D. Allen
Certificate of Proficiency EMT/Basic
Breana N. Allender
Certificate of Proficiency Early Childhood Education
Cindy Almanza
Certificate of Proficiency Health Professions
Alexis M. Alsip
Certificate of Proficiency Nursing Assistant
Gabriela M. Amador, Summa Cum Laude
Technical Certificate Cosmetology
Hunter L. Anderson
Certificate of Proficiency EMT/Basic
Joseph R. Andrews, Magna Cum Laude
Associate of Applied Science Industrial Technology
Certificate of Proficiency Mechatronics
Austin C. Anthony
Certificate of Proficiency Computer Technology
Nicholas L. Arnold
Associate of Applied Science Registered Nursing
Chase M. Arnold, Magna Cum Laude
Associate of Arts General Education
Technical Certificate General Studies
Technical Certificate Health Professions
Elizabeth A. Arter
Certificate of Proficiency Early Childhood Education
Cassandra N. Atkins
Certificate of Proficiency Early Childhood Education
Nathaniel A. Ayers
Certificate of Proficiency Health Professions
Leyah A. Bailey
Technical Certificate Early Childhood Education
Certificate of Proficiency Early Childhood Education
Joseph E. Bailey
Certificate of Proficiency HVAC
Katie M. Bailey
Certificate of Proficiency Health Professions
Andrea Balderas
Certificate of Proficiency Nursing Assistant
Jacob C. Ballard
Associate of Arts General Education
Technical Certificate Health Professions
Certificate of Proficiency Health Professions
Jennifer M. Ballard
Certificate of Proficiency Health Professions
Certificate of Proficiency Nursing Assistant
Amanda L. Barber, Magna Cum Laude
Associate of Arts General Education
Technical Certificate General Studies
Technical Certificate Management and Supervision
Eszri K. Barber
Certificate of Proficiency Medical Billing and Coding
Jaden E. Barber, Cum Laude
Associate of Arts General Education
Kaileigh A. Barker
Certificate of Proficiency Health Professions
Lizbeth K. Barrera Acevedo
Certificate of Proficiency Nursing Assistant
Alma L. Barrientos
Certificate of Proficiency Health Professions
Certificate of Proficiency Nursing Assistant
Jordan T. Baxter
Certificate of Proficiency Commercial Vehicle Driving
Michael T. Beck
Associate of Applied Science EMT/Paramedic
Technical Certificate EMT/Paramedic
Rani C. Bennett
Certificate of Proficiency Early Childhood Education
Brandyn A. Berdeja
Certificate of Proficiency EMT/Basic
Danica R. Berry
Certificate of Proficiency Nursing Assistant
Brenden C. Bethel
Associate of Arts General Education
Technical Certificate Health Professions
Certificate of Proficiency Health Professions
Lane T. Birmingham
Certificate of Proficiency CNC Operator
Lindsey N. Blanchard
Associate of Arts General Education
Associate of Science Health Professions
Technical Certificate General Studies
Technical Certificate Health Professions
Certificate of Proficiency Health Professions
Madyson L. Blankenship
Technical Certificate Cosmetology
Autumn J. Boss
Certificate of Proficiency Early Childhood Education
Daniell T. Boudin
Technical Certificate Early Childhood Education
Certificate of Proficiency Early Childhood Education
Cayden J. Bowren, Summa Cum Laude
Technical Certificate Mechatronics
Certificate of Proficiency Mechatronics
Alexis M. Branscum, Summa Cum Laude
Technical Certificate Cosmetology
Ethan S. Brashers
Certificate of Proficiency Health Professions
Daniel C. Bray
Technical Certificate Computer Technology
Certificate of Proficiency Computer Programming
Certificate of Proficiency Computer Technology
Jessica H. Bray
Associate of Science STEM
Technical Certificate General Studies
Brian M. Briesmeister
Associate of Science Health Professions
Technical Certificate General Studies
Ashley E. Brinkley, Cum Laude
Technical Certificate Health Professions
Certificate of Proficiency Health Professions
Certificate of Proficiency Nursing Assistant
Rhiannon L. Bromley
Associate of Science Health Professions
Associate of Science STEM
Technical Certificate General Studies
Technical Certificate Health Professions
Certificate of Proficiency Health Professions
Dalton W. Brown
Certificate of Proficiency Mechatronics
Certificate of Proficiency Welding
Gage A. Brugoto, Magna Cum Laude
Technical Certificate Mechatronics
Certificate of Proficiency Mechatronics
Tyler L. Budnik
Associate of Science STEM
Technical Certificate Health Professions
Blayne W. Bufford
Associate of Arts General Education
Technical Certificate General Studies
Dillon W. Bullard
Associate of Applied Science Industrial Technology
Certificate of Proficiency Mechatronics
Austin M. Burba
Certificate of Proficiency Skilled Trades
Jessica M. Burke, Magna Cum Laude
Associate of Arts General Education
Associate of Science Business
Technical Certificate General Studies
Technical Certificate Health Professions
Certificate of Proficiency Health Professions
Brooke A. Burns
Technical Certificate Health Professions
Certificate of Proficiency Health Professions
Seth J. Burrier, Magna Cum Laude
Technical Certificate Mechatronics
Certificate of Proficiency Mechatronics
Lacey L. Butler, Cum Laude
Associate of Arts General Education
Technical Certificate General Studies
Technical Certificate Health Professions
Certificate of Proficiency Health Professions
Emily Callahan, Cum Laude
Associate of Arts General Education
Technical Certificate General Studies
Logan R. Callahan, Summa Cum Laude
Technical Certificate Cosmetology
Trinidy J. Campbell
Associate of Arts General Education
Associate of Science Health Professions
Jeanna L. Campos
Associate of Applied Science Registered Nursing
Cameron J. Campos
Technical Certificate General Studies
Certificate of Proficiency Health Professions
Elizabeth M. Canard
Certificate of Proficiency Health Professions
Nichole M. Carmical
Technical Certificate EMT/Paramedic
Isabella C. Carnaghi
Certificate of Proficiency Nursing Assistant
Asa J. Carr, Magna Cum Laude
Technical Certificate Welding
Certificate of Proficiency Welding
Morgan R. Case
Technical Certificate Practical Nursing
Lidia Y. Castillo, Cum Laude
Associate of Arts General Education
Associate of Science Business
Technical Certificate General Studies
Technical Certificate Health Professions
Jorge E. Cervantes
Technical Certificate Practical Nursing
Joshua W. Chance
Certificate of Proficiency EMT/Basic
Asia L. Childress
Certificate of Proficiency Commercial Vehicle Driving
Emelyn G. Cifuentes
Certificate of Proficiency Health Professions
Anna C. Clark, Cum Laude
Associate of Arts General Education
Logan J. Clark
Certificate of Proficiency Welding
Joshua H. Cleaver
Certificate of Proficiency Computer Technology
Certificate of Proficiency Security and Ethics
Emily G. Clem
Technical Certificate Health Professions
Mallory R. Clements
Associate of Arts General Education
Technical Certificate General Studies
Julie A. Cline
Technical Certificate Agriculture Technology
Certificate of Proficiency Agriculture Business
Certificate of Proficiency Animal Science
Certificate of Proficiency Plant Science
Certificate of Proficiency Soil Science
Tyler L. Coldwell
Technical Certificate HVAC
Certificate of Proficiency HVAC
Christie L. Coles
Associate of Applied Science Registered Nursing
Jessica M. Conrey, Cum Laude
Technical Certificate Welding
Jill A. Cook, Magna Cum Laude
Associate of Arts General Education
Associate of Science Health Professions
Technical Certificate General Studies
Certificate of Proficiency Patient Care Technician
Russell L. Coombs
Certificate of Proficiency HVAC
Madalynne M. Cooper, Cum Laude
Associate of Applied Science Management and Supervision
Technical Certificate Management and Supervision
Caria B. Courtney
Certificate of Proficiency Nursing Assistant
Cami J. Cox
Associate of Applied Science Registered Nursing
Randell D. Crabtree
Technical Certificate EMT/Paramedic
Misty D. Craig
Associate of Applied Science Registered Nursing
Abigail N. Creekmore, Cum Laude
Associate of Applied Science Management and Supervision
Technical Certificate Management and Supervision
Justin A. Crenshaw
Associate of Arts General Education
Technical Certificate General Studies
Technical Certificate Health Professions
Certificate of Proficiency Health Professions
Ethan P. Davidson
Certificate of Proficiency Health Professions
Certificate of Proficiency Nursing Assistant
Elizabeth A. Davis, Magna Cum Laude
Associate of Arts Teaching
Technical Certificate General Studies
Technical Certificate Teaching
Certificate of Proficiency Teaching
Ashley C. Davis
Associate of Arts General Education
Certificate of Proficiency Health Professions
Kiley L. Davis
Technical Certificate Practical Nursing
Isabella N. Davis
Certificate of Proficiency Nursing Assistant
Kristen D. Davis
Technical Certificate General Studies
Justin B. Deal
Certificate of Proficiency HVAC
Tiffany J. Defoor
Associate of Applied Science Registered Nursing
Dorian Z. Del Rosal, Cum Laude
Associate of Applied Science Industrial Technology
Estela Delgado
Associate of Science Business
Technical Certificate General Studies
Technical Certificate Health Professions
Bethany N. Deutsch
Certificate of Proficiency Nursing Assistant
Treysi A. Diaz
Certificate of Proficiency Nursing Assistant
Ashli D. Dickey
Certificate of Proficiency Health Professions
Samantha A. Dickey
Associate of Science Agriculture Business
Chad A. Dillard
Certificate of Proficiency Security and Ethics
Megan M. Dixon, Summa Cum Laude
Technical Certificate Cosmetology
Talia L. Dixon
Certificate of Proficiency Nursing Assistant
Trevor L. Dockins
Associate of Arts General Education
Makayla M. Dubreville
Associate of Applied Science Registered Nursing
McKenzie D. Dubreville
Certificate of Proficiency Nursing Assistant
Maggie N. Duncan
Associate of Applied Science Industrial Technology
Kenzi B. Dunegan
Technical Certificate Health Professions
Katelynn B. Edington
Technical Certificate Practical Nursing
Katelyn L. Edmonds
Certificate of Proficiency Nursing Assistant
Allyson J. Edmonds
Certificate of Proficiency Nursing Assistant
Cheryl D. English, Magna Cum Laude
Associate of Applied Science Management and Supervision
Technical Certificate Management and Supervision
Sarai M. Escorcia, Magna Cum Laude
Associate of Arts General Education
Associate of Science Health Professions
Technical Certificate General Studies
Kristin J. Everetts
Certificate of Proficiency Health Professions
Garrett L. Ezell
Certificate of Proficiency Nursing Assistant
Tiffanie N. Fewins, Summa Cum Laude
Technical Certificate Cosmetology
Nicholas B. Fisher
Technical Certificate Mechatronics
Certificate of Proficiency Mechatronics
Corey W. Fitzpatrick
Certificate of Proficiency Computer Technology
Rex B. Fletcher, Cum Laude
Technical Certificate Health Professions
Mary E. Forte, Cum Laude
Associate of Applied Science Registered Nursing
Woodrow S. Fowler
Associate of Arts General Education
Technical Certificate General Studies
Brady C. Fowler
Certificate of Proficiency EMT/Basic
Aaron C. Fulks
Technical Certificate Health Professions
Certificate of Proficiency Health Professions
Kenlee L. Gallegly, Magna Cum Laude
Technical Certificate Practical Nursing
Ellen L. Gann
Associate of Applied Science Registered Nursing
Olivia C. Garcia
Associate of Arts General Education
Associate of Science Health Professions
Associate of Science STEM
Technical Certificate General Studies
Technical Certificate Health Professions
Certificate of Proficiency Health Professions
Gabriel C. Garcia, Magna Cum Laude
Associate of Arts General Education
Technical Certificate Health Professions
Certificate of Proficiency Health Professions
Greg P. Garcia
Certificate of Proficiency Skilled Trades
Jessica F. Garcia
Technical Certificate Early Childhood Education
Certificate of Proficiency Early Childhood Education
Arlet Garcia-Martinez
Associate of Science Health Professions
Technical Certificate General Studies
Technical Certificate Health Professions
Dusty Z. Garner
Certificate of Proficiency Nursing Assistant
Kora F. Gates
Certificate of Proficiency Health Professions
Certificate of Proficiency Nursing Assistant
Hannah M. Gay
Associate of Science Business
Technical Certificate General Studies
Emilee G. Gerhardt
Associate of Arts General Education
Technical Certificate General Studies
Pamela R. Gillihan
Certificate of Proficiency Medical Billing and Coding
Joshua D. Gillmore
Certificate of Proficiency Commercial Vehicle Driving
Harley N. Goble
Certificate of Proficiency Health Professions
Miranda E. Goble
Certificate of Proficiency Health Professions
Chevelle C. Graves, Summa Cum Laude
Technical Certificate Cosmetology
Chelsea M. Green
Certificate of Proficiency Early Childhood Education
Forrest O. Green
Associate of Applied Science Industrial Technology
Certificate of Proficiency Mechatronics
Cali A. Green
Certificate of Proficiency Early Childhood Education
Erica D. Guyette
Certificate of Proficiency Nursing Assistant
Alli N. Hall
Associate of Applied Science Registered Nursing
Millie F. Hall
Associate of Science Business
Technical Certificate General Studies
Brent R. Hardy
Certificate of Proficiency Computer Technology
John R. Hargan
Associate of Arts General Education
Technical Certificate General Studies
Certificate of Proficiency Health Professions
Holden R. Hargrave
Certificate of Proficiency Animal Science
Certificate of Proficiency Plant Science
Brittany M. Harmon
Technical Certificate Practical Nursing
Morgan N. Harris
Associate of Arts General Education
Technical Certificate General Studies
Sydney B. Harsson
Associate of Applied Science Registered Nursing
Courtney D. Hastings
Associate of Arts General Education
Deven P. Hatcher
Associate of Applied Science Registered Nursing
Landen B. Hatfield
Certificate of Proficiency Compact Equipment Operator
Lane C. Hatfield
Certificate of Proficiency Compact Equipment Operator
Brason E. Hawkins
Certificate of Proficiency Health Professions
Elijah G. Heigle, Cum Laude
Technical Certificate Welding
Certificate of Proficiency Welding
Steven K. Hennings
Certificate of Proficiency Welding
Stephine N. Henry, Cum Laude
Technical Certificate Cosmetology
Lory Hernandez
Certificate of Proficiency Nursing Assistant
Jose M. Hernandez
Technical Certificate Welding
Certificate of Proficiency Welding
Adela C. Herrera
Associate of Science Elementary Education
Technical Certificate General Studies
Whitney P. Hickey
Technical Certificate General Studies
Aaron L. Hicks
Associate of Applied Science Industrial Technology
Tristin M. Higginbottom
Associate of Arts General Education
Certificate of Proficiency Health Professions
Brayden Hill
Certificate of Proficiency Skilled Trades
Jamie D. Hill
Certificate of Proficiency Early Childhood Education
Jamela A. Hinesley
Associate of Applied Science Registered Nursing
Lindz C. Hobbs
Associate of Applied Science Registered Nursing
Alexia R. Hobson
Associate of Arts General Education
James M. Hollingsworth
Certificate of Proficiency Skilled Trades
Jessica M. Holloway
Associate of Applied Science Registered Nursing
Katy N. Honeycutt
Associate of Applied Science Registered Nursing
Benjamin T. Hopper, Cum Laude
Associate of Applied Science Industrial Technology
Certificate of Proficiency Mechatronics
Jacob L. Horton, Summa Cum Laude
Associate of Arts General Education
Associate of Science Health Professions
Jennifer M. Horton
Technical Certificate Health Professions
Certificate of Proficiency Health Professions
Certificate of Proficiency Nursing Assistant
Nathaniel A. Howard
Certificate of Proficiency Health Professions
Carol L. Hubbard
Technical Certificate Health Professions
Madison K. Hubbard
Technical Certificate Practical Nursing
Haley E. Huckabee, Summa Cum Laude
Technical Certificate Cosmetology
Kelsey J. Huff
Associate of Arts General Education
Technical Certificate General Studies
Technical Certificate Health Professions
Certificate of Proficiency Health Professions
Kourtlynn D. Huffaker, Cum Laude
Technical Certificate Health Professions
Certificate of Proficiency Health Professions
Certificate of Proficiency Nursing Assistant
Shanna D. Huffine
Associate of Applied Science Industrial Technology
Technical Certificate Mechatronics
Samuel L. Humphreys
Associate of Applied Science Industrial Technology
Hadyn J. Humphries
Certificate of Proficiency Skilled Trades
Marianda E. Huskey
Associate of Arts General Education
Associate of Science Criminal Justice
Technical Certificate General Studies
Technical Certificate Health Professions
Certificate of Proficiency Health Professions
Alejandra Jasso
Associate of Applied Science Registered Nursing
Maria D. Jasso
Associate of Science Business
Technical Certificate General Studies
Technical Certificate Health Professions
Jordis M. Jaynes, Summa Cum Laude
Technical Certificate Cosmetology
MacKenzie F. Jefford
Associate of Science Business
Jesus O. Jeronimo
Associate of Science Health Professions
Technical Certificate Health Professions
Trenton J. Johnson
Technical Certificate EMT/Paramedic
Arabella J. Johnson
Associate of Applied Science Management and Supervision
Technical Certificate Management and Supervision
Zander A. Johnson
Certificate of Proficiency Computer Programming
Hope B. Johnson
Technical Certificate Cosmetology
Felicia M. Johnson, Summa Cum Laude
Associate of Applied Science Management and Supervision
Technical Certificate Management and Supervision
Christian D. Jones
Technical Certificate Welding
Tyler C. Jones, Summa Cum Laude
Technical Certificate Mechatronics
Certificate of Proficiency Mechatronics
Whitney J. Jones
Certificate of Proficiency Early Childhood Education
Jayson D. Joplin
Certificate of Proficiency Skilled Trades
Jordan M. Jurs, Summa Cum Laude
Associate of Science Business
Technical Certificate General Studies
Skyler L. Justice
Certificate of Proficiency Nursing Assistant
Certificate of Proficiency Patient Care Technician
Emma G. Justus
Certificate of Proficiency Health Professions
Madeline A. Karns, Cum Laude
Associate of Arts General Education
Technical Certificate General Studies
Technical Certificate Health Professions
Jessica L. Keeney
Technical Certificate Health Professions
Lauren E. Kimberling
Associate of Arts General Education
Technical Certificate General Studies
Keith K. Kimutai
Certificate of Proficiency Health Professions
Certificate of Proficiency Nursing Assistant
Sarah E. King
Associate of Applied Science Registered Nursing
Jett B. Kirk
Associate of Arts General Education
Andrew J. Kirkpatrick
Technical Certificate EMT/Paramedic
Sarah K. Knight
Technical Certificate Practical Nursing
Kimberly D. Knuckles
Associate of Arts General Education
Madison R. Koch
Associate of Science Elementary Education
Hannah G. Laden
Associate of Science Business
Technical Certificate General Studies
Colby A. Langston
Associate of Applied Science Industrial Technology
Technical Certificate Welding
Certificate of Proficiency Mechatronics
Jill A. Latus
Technical Certificate Health Professions
Certificate of Proficiency Health Professions
Serena D. Lee
Associate of Applied Science Early Childhood Education
Arlis R. Lee
Certificate of Proficiency Commercial Vehicle Driving
Amy M. Leonard
Associate of Applied Science EMT/Paramedic
Technical Certificate EMT/Paramedic
Alexandria A. Lerew
Certificate of Proficiency Early Childhood Education
Melissa J. Levitt
Associate of Applied Science Registered Nursing
Steven R. Lewis
Technical Certificate EMT/Paramedic
Courtney P. Lewis
Associate of Applied Science EMT/Paramedic
Technical Certificate EMT/Paramedic
Fallon M. Lewis
Technical Certificate Practical Nursing
Charity D. Linderman
Associate of Applied Science Registered Nursing
Rebecka L. Lindsey, Summa Cum Laude
Technical Certificate Cosmetology
Billie J. Lindsey
Certificate of Proficiency Skilled Trades
Jasmine N. Lisenby, Summa Cum Laude
Technical Certificate Cosmetology
Nicholas W. Litaker
Certificate of Proficiency Welding
Ava Little-Gilbert
Certificate of Proficiency Nursing Assistant
Gloria K. Lopez
Technical Certificate Cosmetology
Julissa L. Lopez
Certificate of Proficiency Health Professions
Certificate of Proficiency Nursing Assistant
Dillen R. Lovan
Certificate of Proficiency Health Professions
Theresa M. Mabray
Associate of Applied Science Registered Nursing
Ashley D. Manning
Certificate of Proficiency EMT/Basic
Caleb L. Martin
Associate of Arts General Education
Associate of Science Agriculture Technology
Certificate of Proficiency Health Professions
Yareli Martinez-Estrada, Summa Cum Laude
Associate of Arts General Education
Morgan G. Marx
Associate of Arts General Education
Rosemarie E. Mashburn
Certificate of Proficiency Health Professions
Hayleigh R. Mathews
Certificate of Proficiency Health Professions
Certificate of Proficiency Nursing Assistant
Rachel M. Mathews
Associate of Applied Science Early Childhood Education
Technical Certificate Early Childhood Education
Abigail G. Maxie
Certificate of Proficiency Nursing Assistant
Jennifer M. McCann
Associate of Applied Science Registered Nursing
Chelsie M. McCollum
Certificate of Proficiency Early Childhood Education
Gracie D. McComas
Associate of Applied Science Early Childhood Education
Technical Certificate Early Childhood Education
Bryant McDonald
Associate of Arts General Education
Albert L. McGinnis, Cum Laude
Associate of Arts General Education
Technical Certificate General Studies
Lucas L. McGuirk
Certificate of Proficiency Health Professions
Cora K. McKinzie
Technical Certificate General Studies
Diana Medel
Associate of Arts General Education
Technical Certificate General Studies
Alejandro Medina
Associate of Applied Science Industrial Technology
Saul M. Medina, Magna Cum Laude
Technical Certificate Health Professions
Certificate of Proficiency Health Professions
Netzy Mendez-Sanchez
Technical Certificate EMT/Paramedic
Kevin R. Mendoza
Associate of Applied Science Industrial Technology
Certificate of Proficiency Mechatronics
Tina M. Mercer, Magna Cum Laude
Technical Certificate Health Professions
Certificate of Proficiency Health Professions
Grace E. Metcalf
Associate of Arts General Education
Associate of Science Health Professions
Technical Certificate General Studies
Technical Certificate Health Professions
Certificate of Proficiency Health Professions
Jonathan J. Mhlanga
Associate of Applied Science Registered Nursing
Emma A. Miesner, Magna Cum Laude
Technical Certificate Cosmetology
Abigail E. Milam
Certificate of Proficiency Nursing Assistant
Tobyn J. Miller
Certificate of Proficiency Skilled Trades
Kiara M. Minick
Technical Certificate General Studies
Certificate of Proficiency Health Professions
Laisha P. Miranda-Gonzalez
Technical Certificate Cosmetology
Joseph Mize, Summa Cum Laude
Technical Certificate CNC Production Technician
Certificate of Proficiency CNC Operator
Dani L. Moore
Technical Certificate Practical Nursing
Arianna L. Moore
Certificate of Proficiency Nursing Assistant
Ontario B. Moreland
Technical Certificate Cosmetology
Makiyla J. Morris
Certificate of Proficiency Health Professions
Ann M. Moser
Technical Certificate Management and Supervision
Billy K. Musick
Certificate of Proficiency Compact Equipment Operator
Jenny N. Nail, Cum Laude
Associate of Science Business
Technical Certificate General Studies
Elizabeth L. Nast, Summa Cum Laude
Technical Certificate Health Professions
Certificate of Proficiency Health Professions
Certificate of Proficiency Nursing Assistant
Thuong J. Nguyen
Associate of Science Criminal Justice
Tiffany T. Nguyen
Certificate of Proficiency Health Professions
Certificate of Proficiency Nursing Assistant
Thuy H. Nguyen
Associate of Arts General Education
Associate of Science Business
Technical Certificate General Studies
Erika T. Nguyen
Associate of Applied Science Early Childhood Education
Technical Certificate Early Childhood Education
Wyatt M. Northcutt
Certificate of Proficiency Skilled Trades
Joseph A. Olinger
Certificate of Proficiency Nursing Assistant
Wiley G. Osborn, Cum Laude
Associate of Science Business
Technical Certificate General Studies
Jamie K. Ott
Certificate of Proficiency Medical Billing and Coding
Cayla E. Parker
Associate of Applied Science Early Childhood Education
Technical Certificate Early Childhood Education
Certificate of Proficiency Early Childhood Education
Gracie A. Pate
Associate of Science Agriculture Business
Technical Certificate Agriculture Business
Technical Certificate Agriculture Technology
Certificate of Proficiency Agriculture Business
Certificate of Proficiency Animal Science
Certificate of Proficiency Plant Science
Certificate of Proficiency Soil Science
Tiffany L. Payne
Technical Certificate Health Professions
Certificate of Proficiency Health Professions
James A. Peacock
Certificate of Proficiency Welding
Mason R. Pedigo
Technical Certificate Practical Nursing
Eduardo Penaloza
Technical Certificate Welding
Kaylee R. Penn
Associate of Applied Science Registered Nursing
Autumn R. Penn
Technical Certificate Cosmetology
Efrain Perez Quiroz
Associate of Arts General Education
Technical Certificate General Studies
Ismarienid Perez-Velez
Certificate of Proficiency Health Professions
Courtney A. Peterson
Associate of Arts General Education
Joseph R. Peterson
Certificate of Proficiency Mechatronics
Certificate of Proficiency Welding
Faith L. Pickens
Certificate of Proficiency Health Professions
Certificate of Proficiency Nursing Assistant
Gracie L. Pickle
Certificate of Proficiency Nursing Assistant
Courtney A. Pierson
Certificate of Proficiency Health Professions
Naoma R. Pinkston
Certificate of Proficiency Early Childhood Education
Adam W. Pinkston
Certificate of Proficiency Commercial Vehicle Driving
Lucas J. Polston
Technical Certificate Health Professions
Concepcion D. Potts
Certificate of Proficiency Commercial Vehicle Driving
Christopher R. Power, Cum Laude
Technical Certificate Welding
Certificate of Proficiency Welding
Keila C. Prado
Certificate of Proficiency Nursing Assistant
Gracie A. Pretty
Technical Certificate Practical Nursing
Stevien L. Prewitt
Associate of Applied Science Management and Supervision
Gala L. Price
Certificate of Proficiency Nursing Assistant
Maya C. Prickett
Associate of Arts General Education
Technical Certificate General Studies
Technical Certificate Health Professions
Elizabeth M. Pulley
Bachelor of Applied Science - UA Fort Smith
Thomas A. Qualls, Summa Cum Laude
Associate of Science STEM
Savannah Ray
Certificate of Proficiency Nursing Assistant
Nicole L. Reed
Technical Certificate Cosmetology
Natalie K. Reidhar
Associate of Applied Science Registered Nursing
Jeremy L. Reynolds
Certificate of Proficiency Compact Equipment Operator
Miah R. Reynolds
Certificate of Proficiency Health Professions
Certificate of Proficiency Nursing Assistant
Brittiney M. Ring
Associate of Applied Science Management and Supervision
Technical Certificate Management and Supervision
Lizbeth R. Roa, Cum Laude
Associate of Arts General Education
Technical Certificate General Studies
Monica Roberts
Associate of Applied Science Registered Nursing
Lynda M. Roberts
Certificate of Proficiency Health Professions
Corey A. Roberts
Certificate of Proficiency Welding
Brandon J. Robison
Associate of Applied Science Industrial Technology
Nicole A. Robison, Cum Laude
Associate of Applied Science Registered Nursing
Sabella S. Robison
Associate of Arts General Education
Technical Certificate Health Professions
Certificate of Proficiency Health Professions
Victoria A. Roddy
Certificate of Proficiency Health Professions
Karli F. Rogers
Technical Certificate Early Childhood Education
Allison F. Rolins
Associate of Science Agriculture Business
Rachel D. Roper, Magna Cum Laude
Technical Certificate Health Professions
Lindsey R. Rowles
Technical Certificate Welding
Certificate of Proficiency Welding
Emily K. Runyon
Associate of Applied Science Registered Nursing
Forrest D. Sandefur
Certificate of Proficiency Welding
Brock A. Sanders
Certificate of Proficiency CNC Operator
Alesondria P. Scales
Associate of Arts General Education
Associate of Science Health Professions
Bethany N. Scheffler
Certificate of Proficiency Health Professions
Ekaterina Seabolt
Certificate of Proficiency Health Professions
Christie L. Selfors
Certificate of Proficiency Health Professions
Jonathan T. Shane, Cum Laude
Associate of Arts General Education
Technical Certificate General Studies
Ryan G. Sharp
Certificate of Proficiency Health Professions
Timothy C. Shirley, Summa Cum Laude
Associate of Applied Science Industrial Technology
Certificate of Proficiency Mechatronics
Jackson T. Shopher, Summa Cum Laude
Technical Certificate Agriculture Technology
Certificate of Proficiency Agriculture Business
Certificate of Proficiency Animal Science
Certificate of Proficiency Plant Science
Certificate of Proficiency Soil Science
Nicholas C. Siler
Associate of Applied Science Registered Nursing
Kurstin E. Skinner
Certificate of Proficiency Health Professions
Angela R. Slagley
Associate of Applied Science Registered Nursing
Halle B. Smart, Magna Cum Laude
Technical Certificate General Studies
Technical Certificate Health Professions
Certificate of Proficiency Health Professions
Lauren P. Smith
Associate of Science Business
K-Leigh M. Smith, Cum Laude
Associate of Applied Science Registered Nursing
Michelle L. Snedker
Certificate of Proficiency Nursing Assistant
Gracelyn A. Spohr
Certificate of Proficiency Nursing Assistant
Asa D. Spurlock
Associate of Arts General Education
Technical Certificate General Studies
Andriana Staggs
Certificate of Proficiency Early Childhood Education
Jadyn M. Stauffer
Certificate of Proficiency Compact Equipment Operator
Haili P. Steen
Technical Certificate Health Professions
Jennifer Stephens
Associate of Arts General Education
Technical Certificate General Studies
Morgan D. Stout
Certificate of Proficiency Health Professions
Sydney G. Strain
Associate of Applied Science Registered Nursing
Paige J. Strecker
Certificate of Proficiency Medical Billing and Coding
Abigail R. Sullivan
Technical Certificate Practical Nursing
William R. Sutton
Associate of Arts General Education
Riley M. Sweet
Technical Certificate Health Professions
Certificate of Proficiency Health Professions
Riley M. Tapp, Cum Laude
Technical Certificate Cosmetology
Abagail K. Tate
Certificate of Proficiency Welding
Andrew J. Taylor
Certificate of Proficiency Cyber Security Fundamentals
Certificate of Proficiency Security and Ethics
Maegan L. Taylor
Associate of Applied Science Registered Nursing
Nathan J. Taylor
Technical Certificate Mechatronics
Certificate of Proficiency Mechatronics
Cynthia L. Taylor
Certificate of Proficiency CNC Operator
Jackson C. Thomas
Certificate of Proficiency Health Professions
Sean X. Thomas
Technical Certificate Mechatronics
Technical Certificate Welding
Certificate of Proficiency Mechatronics
Summer D. Thompson
Technical Certificate Cosmetology
Tammy L. Thompson
Certificate of Proficiency Early Childhood Education
Katrina M. Tims
Certificate of Proficiency Nursing Assistant
Jacie B. Tipton, Cum Laude
Associate of Arts General Education
Technical Certificate General Studies
Brianna M. Tobin
Associate of Applied Science Registered Nursing
Yulisa M. Tomas, Magna Cum Laude
Associate of Arts General Education
Associate of Science STEM
Technical Certificate General Studies
Katrina M. Tosh
Technical Certificate Cosmetology
Tabitha R. Tosh, Summa Cum Laude
Technical Certificate Early Childhood Education
Certificate of Proficiency Early Childhood Education
Kaylee R. Traub
Certificate of Proficiency Welding
Katie R. Turney
Certificate of Proficiency Health Professions
Amayrany Uriostegui
Technical Certificate Health Professions
Certificate of Proficiency Health Professions
Marco A. Valencia Avalos
Certificate of Proficiency Welding
Nikki L. Vannatter
Technical Certificate Cosmetology
Ashley N. Vanscoder, Cum Laude
Technical Certificate Health Professions
Certificate of Proficiency Health Professions
Certificate of Proficiency Nursing Assistant
Fabiola Vargas
Associate of Applied Science Management and Supervision
Technical Certificate Management and Supervision
Whitney R. Varnell
Associate of Arts General Education
Associate of Science Health Professions
Technical Certificate General Studies
Sheygly N. Vasquez
Technical Certificate Health Professions
Certificate of Proficiency Health Professions
Kayla A. Verser, Cum Laude
Associate of Applied Science Registered Nursing
Sarah E. Vinson
Certificate of Proficiency Teaching
Amanda L. Voyles, Summa Cum Laude
Associate of Applied Science Early Childhood Education
Technical Certificate Early Childhood Education
Shayleigh M. Wade, Cum Laude
Associate of Science STEM
Alex N. Walker, Cum Laude
Associate of Applied Science Industrial Technology
Technical Certificate Mechatronics
Madison F. Walker
Associate of Applied Science Computer Technology
Technical Certificate Computer Technology
Julie A. Walker
Associate of Arts General Education
Technical Certificate General Studies
Chace M. Walling
Certificate of Proficiency Teaching
Weiyang Wang
Associate of Applied Science Registered Nursing
Nancy B. Wann
Associate of Arts General Education
Associate of Science Health Professions
Associate of Science STEM
Certificate of Proficiency Health Professions
Brittany G. Warden
Associate of Science Business
Technical Certificate General Studies
Technical Certificate Health Professions
Certificate of Proficiency Health Professions
Taydem A. Ware
Certificate of Proficiency Health Professions
Cindy M. Weatherford, Cum Laude
Associate of Applied Science Early Childhood Education
Faith L. White
Associate of Arts General Education
Associate of Science STEM
Technical Certificate Health Professions
Nicholas O. Whiteaker
Certificate of Proficiency Skilled Trades
Ryan W. Whited
Associate of Applied Science Industrial Technology
Madison A. Wickersham
Certificate of Proficiency Health Professions
Certificate of Proficiency Patient Care Technician
Amber N. Wigginton
Certificate of Proficiency Nursing Assistant
Mason M. Wilborn
Certificate of Proficiency Welding
Sierra G. Williams
Associate of Applied Science Registered Nursing
Jonathon L. Williams
Certificate of Proficiency Skilled Trades
Aaron D. Willis
Associate of Applied Science Registered Nursing
Landen D. Wilson, Summa Cum Laude
Associate of Arts General Education
Associate of Science Business
Technical Certificate General Studies
Klenton A. Wilson
Certificate of Proficiency Cosmetology Instructor
Grace C. Wilson
Associate of Applied Science Registered Nursing
Samantha M. Wilson
Associate of Applied Science Registered Nursing
Morgan E. Wimberley
Associate of Applied Science Registered Nursing
Andy D. Winkle
Technical Certificate Health Professions
Certificate of Proficiency Health Professions
Certificate of Proficiency Nursing Assistant
Robin R. Winkle
Certificate of Proficiency Health Professions
Seth T. Wojcik, Cum Laude
Associate of Arts General Education
Technical Certificate General Studies
Hannah Wolfe
Certificate of Proficiency Nursing Assistant
Kloee B. Wood
Certificate of Proficiency Health Professions
Abigail A. Wood, Cum Laude
Technical Certificate Health Professions
Certificate of Proficiency Health Professions
Cameron D. Wood
Certificate of Proficiency Commercial Vehicle Driving
Kirsten E. Worley
Associate of Applied Science Registered Nursing
Braiden A. Wright
Associate of Applied Science Registered Nursing
Tara R. Yates, Summa Cum Laude
Technical Certificate Cosmetology
Andrew J. Yauch
Associate of Arts General Education
Technical Certificate General Studies
Tomi R. Young
Associate of Applied Science Registered Nursing
Joseph A. Young, Cum Laude
Associate of Arts General Education
Associate of Science STEM
Technical Certificate General Studies
Technical Certificate Health Professions
Jennifer L. Younger, Summa Cum Laude
Technical Certificate Cosmetology
Arkansas High School Diploma
Jamie Allen
Lizbeth Barrera
Adam Berry
Ayva Breckenridge
Jeron Brewer
Shelby Brezler
Kristen Brown
Kaitlynn Bryant
Corey Carter
Jabron Carter
Hannah Cherwien
Glen Cline
Shanley Davis
Amanda Dunn
James Eason
Matthew Farrier
Jonah Finster
Savanna Fulcher
Shelby Gillmore
Amber Granier
Brandon Hackworth
Hunter Hutchinson
Madison Hutchison
Jordis Jaynes
Trenton Jones
Layla King
Rickey Klindworth
Buu Lam
Gabriel Lee
Landen Lee
Jessie Loftin
Montanna McMullin
Aubrey Middleton
Brittany Midkiff
Hannah Murphy
Darlena Nguyen
Dien Nguyen
Violet Page
Jose Perez
Jacob Phillips
Amber Quattlebaum
Brandon Rowe
Tiffani Secrest
Landon Shilts
Sara Stone
Samantha Taylor
Kasey Terry
Trenton Twilley
Faviola Rodas Valencia
Iehovah Walter
Dakota Watts
Kristina Watts
Ashley Weathers
Heather Whitson
Sherri Wilder
Lindsey Wood