UACCB Student to Compete in Tetris World Championship
Posted Date - 10/7/21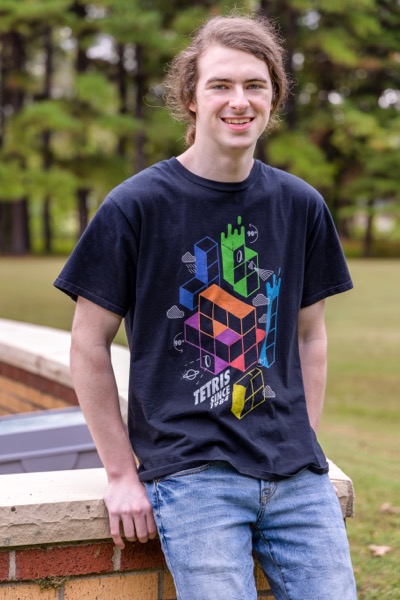 October 7, 2021
A student at the University of Arkansas Community College at Batesville (UACCB) has qualified to complete in the Classic Tetris World Championship (CTWC) beginning this weekend. David Jennings, 19, a 2020 graduate of Cedar Ridge High School and second year student at UACCB, qualified to be in the top 64 players for the CTWC out of a pool of 210 participants from around the world.
Jennings was introduced to Tetris in 2018 after watching the world championship. "It was impressive. I see these two giants on the screen playing a game I had played on my Game Boy when I was 9," said Jennings, "I couldn't keep up. I loved the hype and the kindness of the community. I could not understand how anyone's brain could do that. After watching a few videos, I thought 'this is cool' and I started playing." Jennings began on January 9, 2019, first competing in November 2020, eventually achieving a rank of 50th in the world at one point.
"It's so exciting to have one of our students compete on a global stage. David is a great student with an incredible drive," said Zach Perrine, interim chancellor, "I've always liked Tetris. Having seen David play, his skill is on another level."
Jennings is currently pursuing his associate of arts degree and completing a certificate in early childhood education. He is open to determining what else he may want to do on his educational journey. In addition to being a world-class gamer, Jennings is also a musician, disc golf player, and avid athlete.
Jennings will compete on Twitch.tv starting this Sunday, October 10, 2021, at 2p.m. CST on twitch.tv/ClassicTetris, his player name is "DMJ." Jennings will face last year's world champion in round one. UACCB also has a student organization dedicated to gaming, eSports and More. Persons interested in participating in this organization can contact Deanna Tillery at 870-612-2041 or deanna.tillery@uaccb.edu or Justine Yatska at 870-612-2140 or justine.yatska@uaccb.edu.
UACCB is a comprehensive two-year community college serving Independence County and the surrounding communities with both transfer and career-technical programs. Students can complete their first two years of a bachelor's degree affordably and close-to-home, then transfer virtually anywhere. Students can also complete a credential in a variety of work-ready programs such as allied health, computer science, machining, computerized numeric controls, and more within a semester to one year. For more information call (870) 612-2000.
###