Recruitment efforts, program additions highlighted at UACCB board of visitors meeting
Posted Date - 6/15/21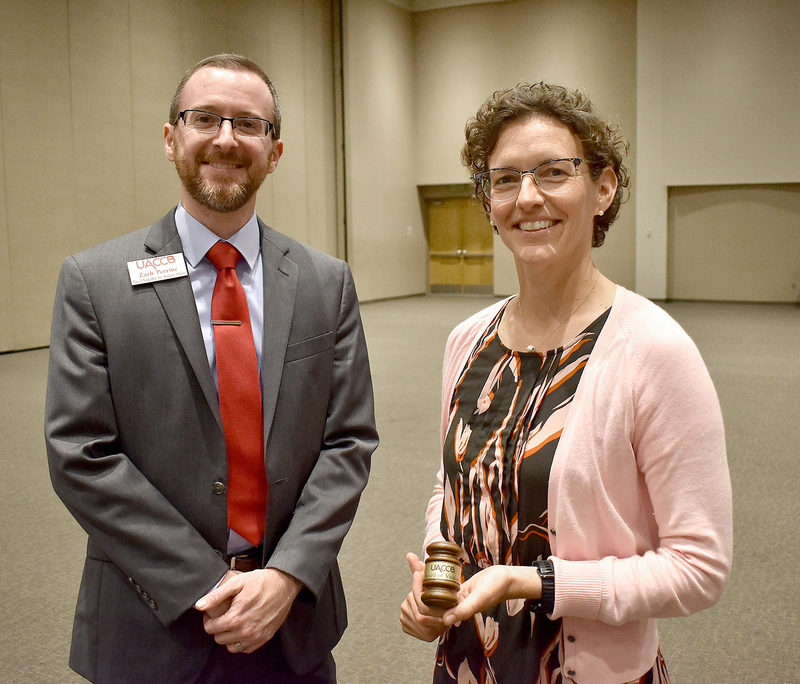 Zach Perrine, interim chancellor for the University of Arkansas Community College at Batesville, reported to the board of visitors that the college has reached the halfway mark to its fall 2021 enrollment goal.


"Forecasting enrollment during the pandemic has proven to be challenging," Perrine said. "We're about halfway to our aspirational goal of breaking even with fall 2020 enrollment, but we still have a lot of work to do in the remaining days of the recruitment cycle."


Perrine said the return of in-person activities such as Junior Preview Day, Project: College Bound events, and academic signing days have aided in UACCB's outreach efforts to students. The college is also pursuing new avenues to communicate with potential students and is continuing its efforts to remove barriers that may prevent students from attending college. The college has launched new digital advertising campaigns, as well as a social media campaign for the summer designed to highlight programs that can be completed in one to two semesters. With funding provided by the Coronavirus Response and Relief Supplemental Appropriations Act (CRRSSA), the campus has purchased ZipWhip, a business text messaging software that will allow texting to a landline, such as to an office phone number on campus. Perrine said the new service will be another tool to provide increased engagement with students.


The board also heard an academic update from Dr. Brian Shonk, vice chancellor for academic affairs. UACCB was recently awarded $525,000 in Regional Workforce Grant Phase II funds. The college will utilize the funding to purchase equipment to enhance current programs, as well as support the creation of a new Heavy Vehicle and Equipment Operator program.


The Heavy Vehicle and Equipment Operator program will include a certificate of proficiency in Commercial Truck Driving (CDL), a certificate of proficiency in Heavy Equipment Operator, and a technical certificate in Heavy Vehicle and Equipment Operator. Funding will provide for a Freightliner M2 crew cab semi-tractor, which will allow space for one instructor and three students, a dry van box trailer, a flatbed trailer, a mini excavator, and a skid steer.
UACCB also plans to purchase an Omnicell autonomous pharmacy management system to be utilized in the registered nursing program. UACCB has a long standing partnership with White River Health System and Unity Health-White County Medical Center. Both healthcare institutions utilize autonomous pharmacy systems designed to deliver "the right dose to the right patient at the right time" in an effort to reduce errors in medicine administration. With the purchase of the Omnicell autonomous pharmacy system, UACCB nursing students will have the benefit of training with technology used in the local and regional healthcare systems, providing them with "real-world" workforce training.


The college also plans to enhance its computer technology offerings with the creation of a modern computer lab with 12 Apple iMac computers, a DJI Matrice 300 RTK drone and one Zenmuse H20T combination 20 megapixel camera, thermal camera, and laser range finder.


Shonk also reported that UACCB would be participating in the Future Fit Arkansas program, a pre-employment workforce training program that will prepare employees for entry-level employment within manufacturing companies. The first course will take approximately 96 hours of combined hands-on and online training for the basic skills needed to be successful in a manufacturing position. Shonk said the state would provide funding to cover the cost of trainers and instruction for the program. Applicants must have a high school diploma or a GED and have earned a Bronze level ACT National Career Readiness Certificate as a minimum qualification to enroll.


Mandy Walker, vice chancellor for finance and administration, presented a budget update to the board. She said the budget for the fiscal year 2022 had been submitted and approve by the University of Arkansas System board of trustees. She provided an overview of funds received through the Higher Education Emergency Relief Fund (HEERF). In phase I, the Coronavirus Aid, Relief, and Economic Security Act (CARES Act), UACCB received $514,963 for direct student aid and the same amount for institutional support. In phase II, UACCB received $514, 963 in direct student aid and $1,578,387 in institutional support from CRRSSA funds. UACCB provided an additional $221,787 of the institutional support funds to the direct student aid portion to further assist students with financial struggles they may be facing as a result of the pandemic. In addition to direct student aid, the campus has utilized CRRSSA funds to provide additional student support, implement technology upgrades and program and learning resources.


Walker said the college will receive a third wave of funding from the American Rescue Plan Act (ARPA), $1,792,025 for student aid and $1,709,662 in institutional support. Perrine noted that the definition of a student was expanded with ARPA funding.


"We will be able to provide direct student aid to students who attended during the pandemic beginning March 13, 2020," he said.


ARPA funding will also allow for some facility upgrades such as a new boiler for Independence Hall, updates to the campus information technology infrastructure and materials that will continue to promote safe health practices to prevent the spread COVID-19.


Dr. Anne Austin, executive director of special projects, provided an update on the Better Teaching for Better Learning program funding through a $2.25 million Title III grant UACCB received in the fall 2020. Austin said there are 24 participants in the first faculty cohort. Participants are working towards certification from Quality Matters (QM), a nonprofit organization with the mission of promoting and improving the quality of online education and student learning, as well as the Association of College and University Educators (ACUE). According to the organization's website, "the ACUE prepares, credentials, and provides on-going support to faculty in the use of evidence-based teaching practices that promote student engagement, persistence to graduation, career readiness, and deeper levels of learning. Faculty who satisfy the requirements of ACUE's courses through institutional partnerships or open enrollment courses earn certificates in effective college instruction endorsed by the American Council on Education."


Austin said that thus far, faculty participating in the first cohort have a 97% engagement rate and have been able to implement new practices they are learning through the program. Andrew Seely, director for the center for teaching and learning, said discussions will begin soon for the recruitment of the second cohort of faculty participants. He said the hope is to pair completers from the first cohort with new participants in a mentorship capacity.


In other business, the board:
• Heard an update on the college's strategic plan from Dr. Deltha Sharp, director of institutional research. While the pandemic put some efforts on hold, Sharp said many goals outlined by the strategic plan had been accomplished including conducting a technology audit, creating a new campus website, creating an interdepartmental marketing workgroup. The strategic planning action teams are working towards achieving additional goals such as improving concurrent student orientation, strengthening industry and workforce partnerships, and seeking opportunities to interact with diverse student groups.
• Recognized outgoing board chair Dr. Maggie Williams. Perrine presented Williams with the gavel and thanked her for her service to the board and the institution.

• Unanimously approved the recommendation for new board members Brad Cummings and Michelle Reesor. Cummings was recommended to fill a one-year term left by a vacated position. Reesor was recommended to fill a three-year term. The recommendations will be presented the University of Arkansas System board of trustees for approval at its next meeting.

• Unanimously approved the reappointment of board members Mike Arnold ( three-year term); Stan Fretwell (three-year term); and Ted Hall (three-year term).

• Unanimously approved the recommended slate of officers for a two-year term. Officers elected are Ted Hall, chair; Dr. Michael Hester, vice chair; and Jesse Freiert, secretary.

• Heard new employee introductions. Jessica Shelton was introduced as the new administrative analyst and Alexas Sterling was introduced as the new fiscal support specialist.

• Unanimously approved the board minutes from April 16, 2021