Mary Brewer receives 2020 Outstanding Adjunct award
Posted Date - 10/12/20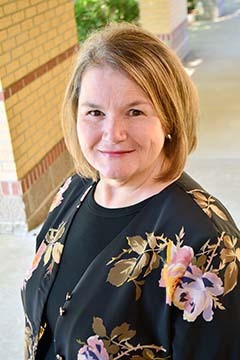 By Jeanni Brosius
Freelance Writer


Mary Brewer knew at a young age that she was meant to be a nurse and a teacher.
She now has the best of both worlds teaching the prelicensure registered nursing program at the University of Arkansas Community College at Batesville. UACCB recently honored her with the Outstanding Adjunct award for her outstanding dedication, service and commitment. Brewer is now part of the full-time nursing faculty.
"My mother was a nurse, and from the time I was born, I knew I was called to be a nurse, but I also wanted to teach," Brewer said. "I didn't just see the ad in the paper [for the position], I've prepared for 16 years so I could come here and teach. It all started in high school."


At Hermitage High School in Missouri, her junior year, Brewer earned her certified nursing assistant certification. Then as a senior, she got her EMT certification.


In 1984, Brewer graduated from Gateway Vocational Technical School (now UACCB) with her degree in practical nursing. She went back to get her RN degree in 1995, and in January 1996, she went to work at White River Medical Center. She worked in an oncology office from 2002-2014 and while there she earned her oncology certification. This knowledge was invaluable when she cared for her husband and sister through their cancer battles.


When Brewer went back to school for her Bachelor of Science in Nursing, she had a goal in mind — to teach at UACCB. She became an adjunct in 2014 for the LPN and RN programs and graduated with her MSN in Nursing Education in 2019.


Her students talk about her passion for nursing and teaching. Brewer said she gets the cream of the crop as far as students go. "They are extraordinary," she said.


"An opening came up in the spring of 2020 to teach," Brewer said. "I have a passion for bedside care, and I believe that is a calling not just a career … I love to teach, and I wanted to come here … This is my community. This is where nurses will take care of me and my family."


Brewer's students agree that she was made for teaching the next generation of nurses. "Mrs. Brewer was born to teach! She is a phenomenal clinical instructor who makes learning enjoyable," wrote one student on their nomination form. Another commented, "I love her passion for nursing in general. Her enthusiasm for students to succeed is like a breath of fresh air."