UACCB Outstanding Alumni completes doctorate amid COVID-19 pandemic
Posted Date - 9/2/20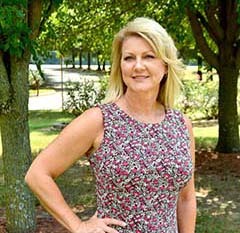 Zelda Epperson-May faced a particularly unique set of challenges in light of the COVID-19 pandemic as she was working to complete her doctorate degree when the pandemic was declared.


"No one really knew what to do. We went from having to present our projects to not presenting them to presenting online. The plan changed about five times I think," she said.


Epperson-May overcame the challenges and completed her degree in May 2020. However, the path to her terminal degree came with plenty of twists and turns.


The youngest of seven children, the Cave City native enrolled in classes at Arkansas College, now Lyon College, immediately after graduating high school. "But I decided working and getting paid was better than going to school where I had to pay money," Epperson-May said, laughing. "I dropped out before the first semester was over. It was a hard lesson to learn because I still had to pay back my student loans. It took 10 years before I decided I needed to go back to college."


Epperson-May worked for several years at Unifirst in Cave City before she was laid off. She began working at Arkansas Eastman, now FutureFuel Chemical Company, but again, layoffs robbed her of her job security. At age 30, Epperson-May enrolled at the University of Arkansas Community College at Batesville and began taking a few courses.


"I took my first class with Debbie Frazier in Accounting I. At the time, my major was accounting. I figured out pretty quick that was not what I wanted to do," she said, laughing. "I was trying to find the right fit for me, so I began researching medical school and discovered how expensive it was. I found an Army ad for certified registered nurse anesthetists. At the time, the closest school that offered a CRNA program was in Memphis. I contacted them and they told me to wait because a program was going to be started at ASU-Jonesboro."


Epperson-May earned her bachelor of science in nursing from ASU and went on to earn her MSN in nurse anesthesia. She serves as the clinical lead CRNA at White River Medical Center where she's worked for the last 10 years. Epperson-May said at first, it was the element of job security that drew her to the medical field, but she said she's found her career to be very rewarding.


"I like the excitement of my job. When it's intense, it's very intense, but you're saving lives. It's never boring. You never have the same day. You might be working in the operating room, or you could be in the OB unit, or in the ICU. You work anywhere you might be needed," she said.


Epperson-May's success in her academic and professional journeys led to her being selected as UACCB's 2020 Outstanding Alumni. She said she encourages students who shadow at the hospital to utilize their community colleges and they resources they offer.


"I encourage them to try to pick a career path early on and research what it will take to work in that field and what education they will need. If your parents know someone working in that field, ask them if you can job shadow. And don't let the curriculum scare you. Every class I took to become a CRNA had the word 'advanced' in front of it. I never would have gotten anywhere if I had let that scare me. You have to take it one class at a time, and there are so many resources available to you now."