Rates and Pricing
The following rates apply to non-UACCB groups and organizations. The rental fee is waived for educational activities performed for the benefit of UACCB. The maintenance/cleaning fee is mandatory and must be paid to confirm reservation. Parties must also pay a $250 tobacco compliance deposit. By Arkansas law, the UACCB campus is a tobacco free campus.

All rates are inclusive of tables, chairs, and staging (if applicable). Reservation time includes user's set-up and take-down time.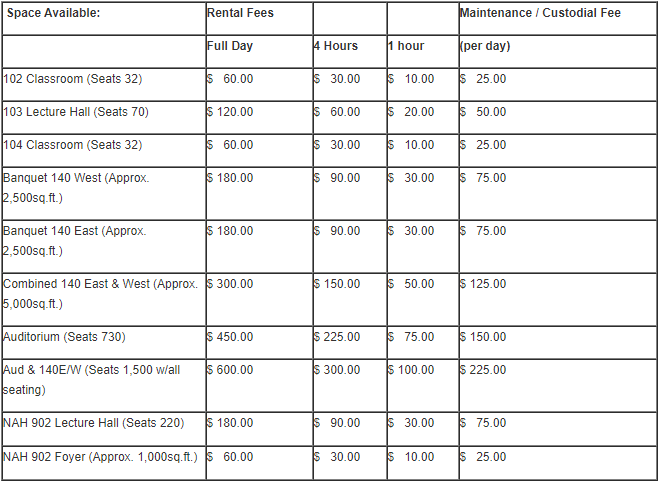 Full day rental is 7:30 a.m. to 10:00 p.m. Monday thru Saturday (Campus is closed on Sundays)
Room rates for other campus facilities besides these listed above are available upon request.
Additional costs can include but are not limited to:
Cost of repairs to facilities (cost and labor)

Cost from loss or theft of equipment

Cost for excessive clean-up of facility or parking lots. Sponsor will be charged $25/hr

Use of audiovisual/computer technician (other than basic equipment set-up) – $25/hr
Services or personnel required after normal business hours: Monday through Saturday–7:30 a.m. to 10:00 p.m.
NOTE: In the event that User sells tickets to the event, UACCB reserves the right to receive 10% of all gross revenues received by User for the event in addition to the fees outlined above.
The College reserves the right to waive, reduce or provide an in-kind charitable donation for use of the facilities at the sole discretion of the College. The request for a waiver, reduction or in-kind sponsorship should be made in writing to UACCB either with the initial Facilities Reservation Request Form or within five days of the reserved date. Approval of the waiver, reduction or in-kind donation will be at the discretion of the Administrative Cabinet.