Fulfilling the Dream - Amber Dent
Posted Date - 2/28/20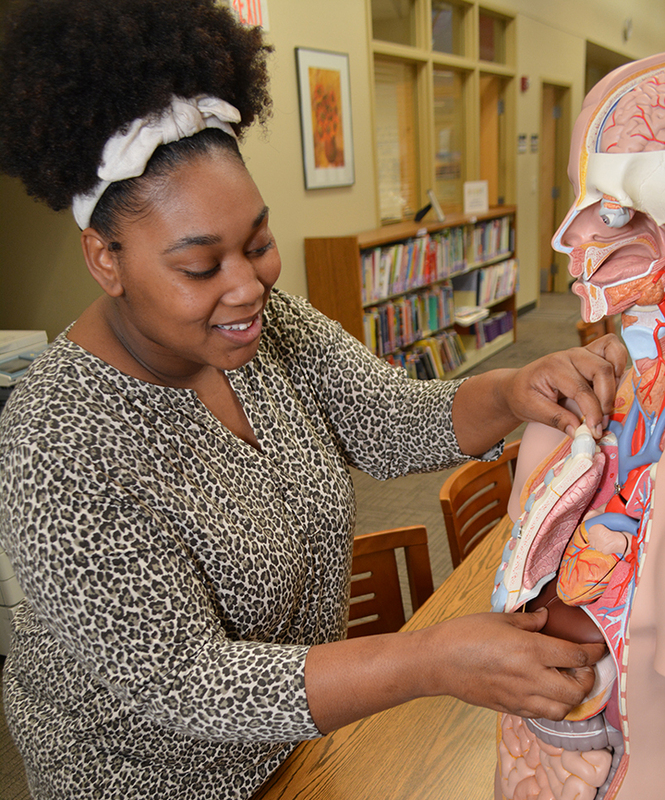 In May, Amber Dent will walk across the stage during graduation at the University of Arkansas Community College at Batesville, an accomplishment she says has been a long time in the making. "I've been waiting for this for such a long time. It makes me happy for myself," Dent said with a smile.

Dent will graduate with her certificate in medical billing and coding and her associate of applied science in medical office management. Her academic success led her to becoming a member of the Phi Theta Kappa honor society. Her graduation is the first milestone on the journey to her ultimate goal of being a nurse.
Her exposure to the medical field began in high school. Dent took medical courses and was secretary of the medical club at Marion High School. "We did clinicals, so I got a lot of hands-on experience," she said. "I loved labor and delivery, but my goal is to be a registered nurse."
Dent attended Arkansas Tech University for a year and a half before the birth of her first son after graduating from high school. "I didn't have the determination and motivation at that time that I have now. I graduated with honors from high school, but I never liked school," Dent said. "I dropped out of college. I moved to Batesville four years ago when I was pregnant with my second child. At first, I didn't have college on the brain. I was just getting settled in. But when I decided I wanted to go back to school and started trying to enroll, I discovered I still owed Tech money, and I couldn't afford to start school at UACCB at that time."
Dent persisted and enrolled at UACCB in August 2018. She worked full-time at TJ Maxx while attending college full-time and raising her four children, Karter, 4; Kenedi, 3; Quenton, 2; and Emill, 2 months. "I've had a major life-changing event take place every semester. As a single mom, my hands have been full. It's been hard and some days are more stressful than others, but I love being a mom. Being a single mother is hard but it truly is one of my greatest accomplishments," Dent said.
Dent said her strong support system both on and off campus has been a major contributing factor in her success. "My manager, Christy, has been my advocate. She goes above and beyond to help me. Ms. Broadwater has helped me from the moment I started here. Cheyenne [Diaz] and Ms. Debbie Wyatt in Career Pathways have been great. From the moment I came onto campus, everyone has been so nice to me. They remember my name and check up on me to make sure I'm doing ok."
Dent will soon begin an internship at White River Medical Center and hopes to secure a position there in the future. She also said her degrees will offer the flexibility of possibly being able to work from home. In the future, she plans to return to college to pursue her registered nursing degree. "I felt that right now trying to pursue a nursing degree would be too stressful, but I wanted to get a degree in a field that would allow me to transition into nursing easily. That's the ultimate goal. I'm a people person. I want to help people," she said.
Dent said her advice to other single mothers wanting to pursue college would be to start with the end goal in mind. "You have to know what you're doing it for. You have to remind yourself of the end goal. I do this for myself, but I also do it for my babies. My kids are my happiness. Don't let being a single mom stop you from anything. Do what you have to do and don't get discouraged. You're going to meet people along the way that will be your advocates and help you get there."