Cedar Ridge Junior Set to Graduate with Two Associate Degrees from UACCB in May
Posted Date - 2/27/20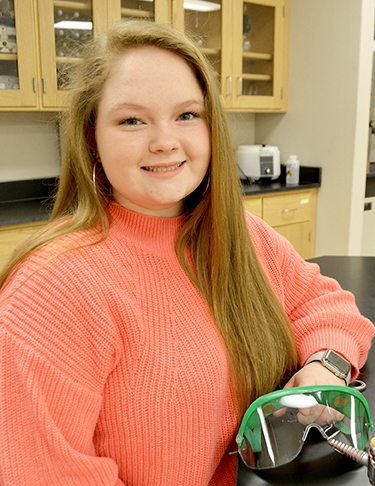 While high school seniors are anxiously awaiting graduation in May, one Cedar Ridge junior is also preparing for commencement. But while some of her classmates will be receiving their high school diplomas, Kylee Wood is on track to walk across the stage at the University of Arkansas Community College at Batesville during commencement May 11 to receive two associate degrees and a technical certificate.
Wood anticipates completing a technical certificate in general studies, an associate of arts in general education, and an associate of science in STEM. Wood, who will graduate in 2021 from Cedar Ridge, began taking college courses in her freshman year in high school. She said she has no intention of taking a break from her college coursework during her senior year in high school. "I want to keep going. I love it. I don't want to stop," Wood said. "I have worked hard to complete all of my college classes, but the overall experience has been so rewarding. It feels a little strange that I will be graduating college before I do high school, but great at the same time. It's helped me decide what career path I want to take."
Wood's goal is to transfer to a four-year institution and pursue a degree in veterinary science. She said she has a passion for working with animals and is currently interning every Thursday at Newport Animal Hospital. "I like math and science because I'm a very logical thinker," she said. "I thought about being a pharmacist or doing physical therapy, but I discovered that vet science was a better fit for me."
Wood's mother, Shanda Wood, teaches at Cedar Ridge and said Kylee began inquiring about taking college classes in the eighth grade while taking the career development class she teaches. "We had discussed college classes as options and explained students could take them as they go through school. She asked if she could take college classes the next year as we were registering for freshman classes," Shanda said. "I called UACCB's liaison at the time, Judy Engles, who I had worked with before at Southside. Judy informed me that Kylee would need to take the ACT, and if she made at least a 19 on the reading and English portions, she could start college classes. She surpassed that score for both subjects, and UACCB and Cedar Ridge worked together to enroll her in her first two college classes."
While Kylee has thrived in a college environment, she is still very involved in high school activities. She has been class president since the seventh grade and is currently vice president in Future Business Leaders of America, Future Farmers of America, and Family, Career and Community Leaders of America. She is also a member of Beta Club. Kylee is a member of the state Congressional Youth Board under the direction of Sen. Steve Boozman, and she competes on the Cedar Ridge volleyball team, show team, and Career Development Event (CDE) vet science team. During district CDE competitions last year, she placed first individually and her team placed first. Kylee and her team went on to state CDE competitions where she placed second individually and her team placed second. Kylee and her sister Kloee also help with the family's honeybee business.
Kylee said one of the keys to her success has been consistency. "If you do the work consistently, you'll get a good grade. I do all my college work on Sundays. And if I have questions, I ask questions. I've been in Ms. Meinzer's office plenty, and if I don't understand something, she's always helped me through it."
Shanda said even though Kylee had enough credits to graduate from high school in December 2019, she and Kylee's father, Jimmy, felt it was best for her to stay in high school and enjoy her senior year. "She still needs to be a kid," Shanda said.
Shanda and Kylee both praised UACCB for helping Kylee achieve her success. "We cannot say enough good things about UACCB and how they have worked with and accommodated Kylee and the goals she has set for herself," Shanda said. "Nate Pyle has emailed many times to check on her and her progress with her classes. Everyone has been very welcoming. As a mom, you want your kids to have a great foundation, and what better place than UACCB."