UACCB Alumna Share Her Silver Lining Story
Posted Date - 8/4/23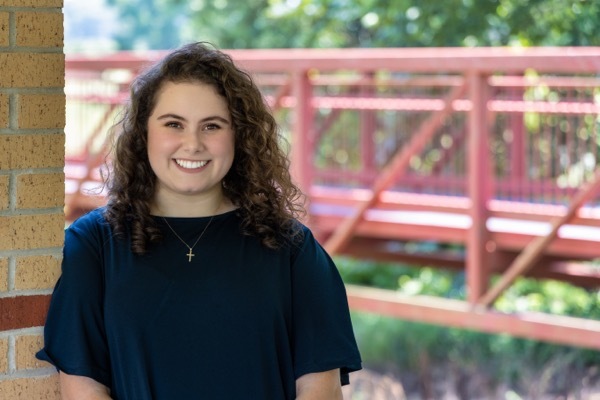 When her original plan to attend college fell through, Kristina Balentine found out every cloud has a silver lining.
She regrouped and found a solution in her own backyard - and thanks to her degree from the University of Arkansas Community College at Batesville, she was able to transfer to a four-year university while maintaining affordable tuition.
Balentine attended Hillcrest School District her entire school career and although her involvement in various types of community service pointed to a career in nursing, Balentine said her interests lay elsewhere.
"I grew up with a fear of storms. ... That fear turned into fascination."
Balentine spent a lot of time watching the weather and tracking storms, and by the time she was in 10th grade she knew she wanted to study meteorology, saying it was a way to combine her love of weather with wanting to help people. "I later found photos and drawings I'd done in elementary school that showed I had a clear interest in weather when I wasn't aware of it," she said. "I just think weather is beautiful and very complex – I love learning and studying God's creations."
Balentine graduated in 2017 and knew that in order to get a degree in meteorology, she would have to go out of state. She looked for a college in New York because her mother is from there. She applied and was accepted to one of the colleges there, excited to have a plan in place.
"I was supposed to have a good deal to go to college – four years and it would only cost me $8,000," she said, "The next day I got a bill in the mail for $8,400, and that was just for the fall semester," she said. "That was very different from what had been quoted to me."
It was time to regroup.
She said fortunately, Hillcrest helped all seniors apply to UACCB before they graduate, and she had earned some scholarship money there. "I called UACCB; I thought I had accepted my scholarships but I had not," she said. She went to UACCB to make her case and was able to enroll with the scholarships she was offered that summer.
Although she was disappointed her original plans didn't work out, she was thankful she didn't move a thousand miles away from everything she'd ever known.
"So realistically I wasn't ready for it," she admitted. "I got a job at the campus bookstore and made friends – it didn't take long to build connections."
Balentine also said she knew the class sizes would be smaller at UACCB than the other college she'd planned to attend, but she was also thankful for the help she received while there. "I never really had to worry about anything," she said.
Balentine achieved an associate degree in STEM (science, technology, engineering and mathematics), with a goal of transferring to a four-year institution to earn a bachelor's degree in meteorology.
"I was looking at several four-year universities, their prices, and where I might want to go. As a first-generation, low-income student I needed all the help I could get," she said. One of the colleges she considered was Mississippi State University. Mississippi and Arkansas are both Academic Common Market states, which offer in-state tuition rates for out-of-state students pursuing a specialized field.
"I was talking to my supervisor at the bookstore, Luanne Barber, and because my dad's work schedule was too hectic for a campus visit, she offered to go with me to see Mississippi State. When Debbie Frazier, who was the chancellor at the time, found out she (Barber) was taking me, she said, 'I want to come!'' That's just how amazing and supportive the people at UACCB are!"
Balentine lucked out because MSU not only is a member of the Academic Common Market but it also "has a great reputation for broadcast meteorology," she said. "I was able to get an in-state scholarship there because of the Academic Common Market. ... The fact I was able to pay in- state tuition was phenomenal, and I was able to stack other scholarships. It ended up being a very sound financial decision."
In May 2022, Balentine earned a bachelor's degree in geosciences with a concentration in professional meteorology and an emphasis in broadcast meteorology, with a minor in broadcast journalism. She is currently pursuing a master's degree in geosciences, with a concentration in professional meteorology/climatology; she plans to graduate next May.
Balentine said she is grateful for her start at UACCB and for the faculty who helped her make that happen. She said going to UACCB "was one of the best decisions I ever made even though I didn't make it by myself. Debbie Frazier has done so much for me – it would have been difficult to make the transition to Mississippi State without her help. ... Ms. Frazier and Luanne held my hand for a lot of the transitions," Balentine said. "Andrew [Muse] and Doug Muse, they both taught math and they were great. Beverly Meinzer, my chemistry teacher also supported me a lot; she was so excited for me and keeps up with me on Facebook. Everybody there just helped me so much while I was there for two years, and I still go visit them on my breaks. ... I made friends there that will be friends forever. I look back with happy memories."
Story by Andrea Bruner