UACCB Student Receives Debate Scholarship to UCA
Posted Date - 4/28/23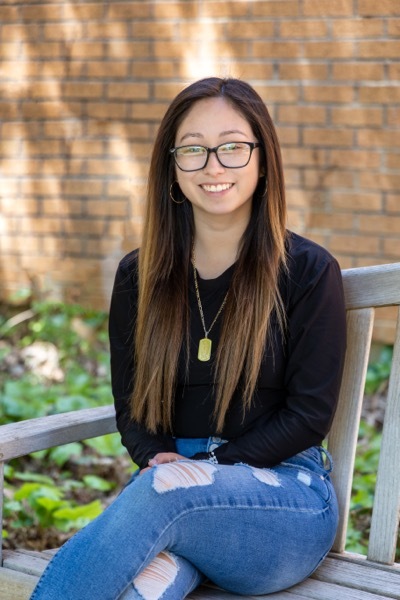 Lizbeth Roa is completing her second year at the University of Arkansas Community College at Batesville and knows first-hand that getting involved in student organizations can change everything. As Roa sat in her Oral Communications class last fall, she never dreamed she would one day debate in front of a panel of judges and receive a debate scholarship to help further her dreams of becoming a teacher.
"Liz was a quiet student in the beginning," said Oral Communications instructor and Debate Coach, Jacob Chisom, "but you could tell all the wheels were turning; when she talked, she asked all the right questions and said all the right things," explaining that he thought debate could get her and the other students in an environment where they could get more comfortable speaking. "They are incredibly intelligent students but needed a nudge to speak out more frequently."
As Chisom began building the first UACCB debate team, he said the students put a lot of work in that first semester to learn the intricacies of debate. "We went to a debate at UCA to judge and see how it works in person. … The ones who went with me fell in love with it."
Roa commented, "At first, I really thought debate was all about politics. But then I got the hang of it, knowing how to take notes, the argument, the affirmation side and the negation side. I really enjoyed it and being able to go to different places and meet new people, debating some of the same people. It's like a big, friendly community even though you're arguing against each other," she said with a laugh.
The debate team has attended competitions in Fayetteville, Conway and Louisiana. UACCB has competed in novice the past two years, seeing about 40 to 70 people competing in that division, but Chisom hopes to have some students compete in the Junior Varsity division next year.
At the Bossier Parish Community College competition earlier this year, Roa was the number 5 overall seed out of 38 students, making it to the first out round. "That's a very big development step," he said, noting this was only Roa's fourth time competing in debate, and this is the first award a debater from UACCB has earned at a tournament this year.
Roa's family is very proud of her achievement. Roa was raised in a Spanish speaking home with her mother and sister. She learned English at an early age from her grandparents, Larry and Maria Bynum. Roa's passion for teaching was sparked by translating for her mother and flourished when she began tutoring others in elementary school. She decided upon math major while attending Batesville High School because the idea of helping others "in a subject that's considered the hardest by some people" greatly appealed to her. "I want to teach math, and I want to teach it in Spanish. When I was in high school, I had friends who only spoke Spanish and they struggled to learn, especially math."
After graduating from Batesville High School in 2021, Roa said it was an easy decision to enroll at UACCB, saying she knew could save money while getting her basics. "I really don't want to be in debt later on in life," she said. "UACCB was always my first option. It also gave me sometime to think about what I wanted to do," and how she would get that accomplished.
Roa said she had not dreamed that debate would open doors for her; she was awarded a debate scholarship and will transfer to the University of Central Arkansas this fall. Roa said when she gets her degree, she would eventually like to return to Independence County and teach and possibly help with the debate team at UACCB and at whichever high school she teaches.
Chisom wants other students to know there are opportunities for students to further their education outside of UACCB. "Debate not only helps academically, but also helps them earn scholarships to four-year colleges." He said two other UACCB debaters have received scholarship offers, as well: Shayne Coffey, to Louisiana State University-Shreveport, and Myca Marotti, to Chisom's alma mater, UAM.