TRIO Student Support Services celebrates success at UACCB
Posted Date - 2/27/23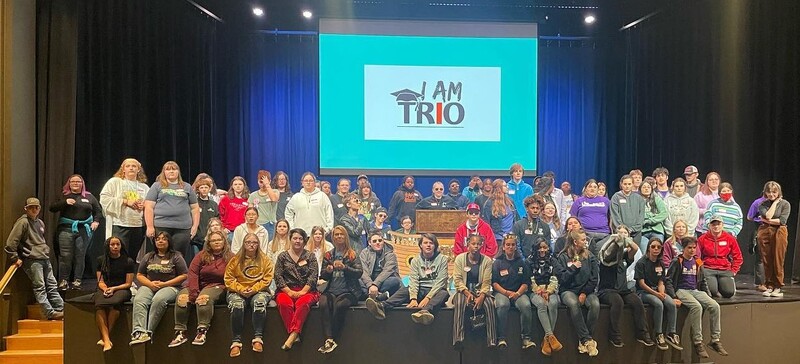 Students and graduates from around the state participated in the 2023 National TRIO Day student workshop on Saturday, February 25 on the campus of the University of Arkansas Community College at Batesville.
TRIO Student Support Services is a federally funded program designed to promote retention and academic success in college. TRIO provides participants with academic and support services to ensure their successful completion of a degree. Unlike student financial aid programs which help students overcome financial hurdles to higher education, the TRIO programs recognize the importance of overcoming all barriers to success.
"It was such a great opportunity for UACCB's TRIO Student Support Services to host this year's event. I am honored that we were able to showcase the amazing things that UACCB has to offer and remind TRIO students about the great things that TRIO can do for them," said Ronda McLelland, director of TRIO Student Support Services at UACCB. "Students were able to take college tours at UACCB and Lyon College. As a TRIO alumnus, I am really happy to celebrate all the wonderful things that TRIO does on a daily basis!"
Over 125 students from TRIO programs across the state participated. During the event, organizers honored the TRIO Hall of Fame recipients for the 2022-2023 year. Alesondria Scales, a nursing student, was awarded the Hall of Fame award from the TRIO Student Support Services Program at UACCB. TRIO Hall of Fame students are featured in the Arkansas Association of Student Assistance Programs Annual Report that is given to Arkansas congressional leaders during legislative visits to showcase how successful TRIO programs are.
There are 82 TRIO programs that serve more than 25,000 students in Arkansas. Institutions participating in Saturday's event were: University of Arkansas Little Rock; Arkansas State University - Beebe, Arkansas State University - Heber Springs; East Arkansas Community College; North Arkansas College; Arkansas State University - Three Rivers; Lyon College; University of Central Arkansas; Ouachita Baptist University; and Arkansas Northeastern College.