UACCB pins 2022 registered nursing students
Posted Date - 12/14/22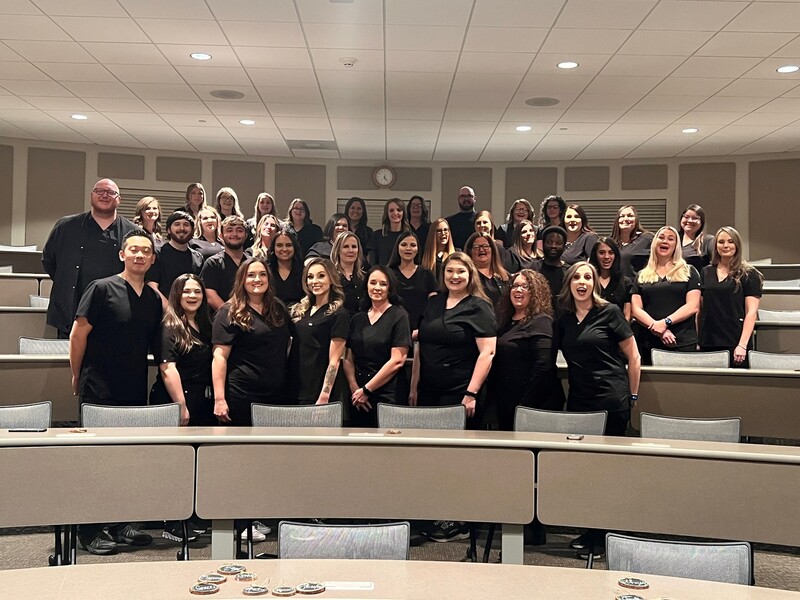 The University of Arkansas Community College at Batesville registered nursing students were honored at a pinning ceremony on Friday, December 9, 2022. In addition to receiving their nursing pins, awards were presented to several outstanding students.

Academic Awards were presented to Charity Linderman and K-Leigh Smith. Community Service Awards were presented to Jennifer McCann and Samantha Wilson. Florence Nightingale Awards were presented to Aaron David Willis and Jessica Holloway.
During the ceremony, students recited the Nightingale Pledge, a statement of the ethics and principles of the nursing profession. They were presented with nursing pins by a nurse who has had an impact on their education or career.
2022 registered nursing students:

Nicholas Arnold, Paragould
Lashelle Campos, Sulphur Rock
Christie Coles, Augusta
Cami Cox, Biscoe
Misty Craig, Mabelvale
Tiffany Defoor, Centerton
Mary Forte, Heber Springs
Ellen Gann, Ash Flat
Alli Hall, Batesville
Sydney Harsson, Concord
Deven Hatcher, Jonesboro
Jamela Hinesley, Mountain View
Lindz Hobbs, Searcy
Jessica Holloway, Searcy
Katy Honeycutt, Harrisburg
Alejandra Jasso, Batesville
Sarah King, Batesville
Melissa Levitt, Batesville
Charity Linderman, Searcy
Theresa Mabray, Pangburn
Makayla Martin, Pleasant Plains
Jeni McCann, Searcy
Jonathan Mhlanga, Searcy
Emily Osburn, Bald Knob
Kaylee Penn, Batesville
Natalie Reidhar, Des Arc
Monica Roberts, Greenbrier
Nicole Robison, Batesville
Nicholas Siler, Bald Knob
Angela Slagley, Swifton
K-Leigh Smith, Batesville
Sydney Strain, Batesville
Maegan Taylor, Ravenden
Brianna Tobin, Judsonia
Kayla Verser, Batesville
Weiyang Wang, Batesville
Sierra Williams, Cave City
Aaron David Willis, North Little Rock
Samantha Wilson, Southside
Grace Wilson, Springdale
Morgan Wimberley, Batesville
Kirsten Worley, Little Rock
Braiden Wright, Batesville
Rene Young, Gentry