UACCB student receives grant honoring Batesville native, Skip Rutherford
Posted Date - 6/2/22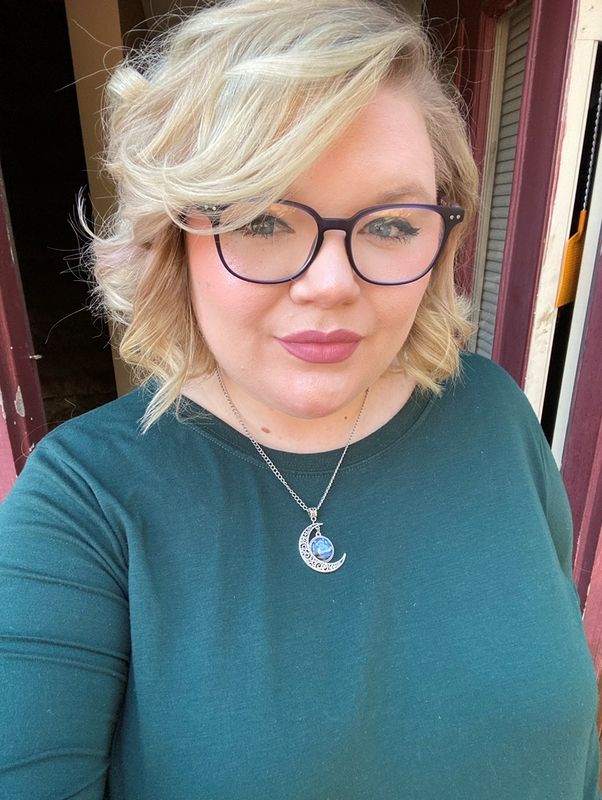 By Andrea Bruner

After having a couple false starts, Rebecca de la Fuente said she was ready to put her future first, by attending the University of Arkansas Community College at Batesville (UACCB). But as it turns out, there were still obstacles ahead.
Fortunately, she is clearing some of those obstacles, thanks in part to a grant from an endowment honoring James L. "Skip" Rutherford III, dean emeritus of the University of Arkansas Clinton School of Public Service.
More than 100 students had applied from nine University of Arkansas System campuses, and de la Fuente is one of only four winners.
De la Fuente, a non-traditional student and single mother to five children, said she plans to use her grant funds to purchase a new laptop computer for school and for new tires for her vehicle.
"I was really surprised I got one," she said. "When I started writing my grant proposal, I didn't know what I was doing; I had never written one before. When I started writing the proposal, I didn't look it up or anything, I just said I'm going to go with this. Only four people got chosen and they picked me. I was in shock."
Growing up in Hardy, de la Fuente was the oldest of seven kids. Her father at one time was a licensed practical nurse and her mom had earned an associate degree.
De la Fuente said she enjoyed elementary and middle school, and it was about that time she had a reading teacher who really opened her eyes to the joys of reading. De la Fuente said she enjoyed learning and would read up on subjects she was interested in.
"I taught myself piano and I like doing art; I was alone a lot because my parents were working," she said.
De la Fuente said she always wanted to go to college and get a degree, but life seemed to make other plans.
"I got my GED in November 2010 at age 16," she said. "I was in college when I was 17, and I got pregnant with my first baby. I tried to finish a couple more semesters, but I was too overwhelmed. When I was 19, I got pregnant again, so I quit school for a while."
De la Fuente said she moved to Missouri after her divorce hoping for a fresh start and even tried going back to college, but after a few years of struggling she moved back home. "I felt I needed to do something with my life - I was almost 30 and didn't want to be in and out of jobs that I didn't like, but every time I went back to college, I couldn't manage my time properly and got overwhelmed."
She had not given up on going back to school, however, and in December she decided to sign up for UACCB.
"I went on campus for new student orientation, and they had a bunch of tables for different student groups. I saw one table that immediately caught my eye that said 'non-traditional students.' I walked up and started talking to them about how I had a few credits but didn't finish.
"I got really excited; they have so many things to offer single parents like Career Pathways and TRIO, and a food pantry - which I've used twice. They also have a Student Government Association with monthly meetings where I could voice my opinion and share ideas, so they can better learn what single parents are going through."
She said also during orientation, one college official was sharing his personal experience about failing his first two semesters but basically was able to take that bad experience and turn it into something positive. "I took his advice and wanted to do the same thing. Now I'm focusing on passing all of my classes and getting my degree. His advice helped a lot and opened my eyes, that I am not the only student to go through this."
At one time, de la Fuente thought she wanted to be a doctor and be a nurse until she earned her medical degree, but when she got into her health skills class to get into nursing school, she would be working 12-hour shifts meaning she would have to find childcare for her five kids.
"When I realized that, it didn't fit into my kids' schedules, so I had to reconsider," de la Fuente said. A friend encouraged me to consider going into education, and de la Fuente liked the idea, especially that it meant she would get to spend more time with her children.
De la Fuente's goal is now to graduate in the fall of 2023 with an associate of science in elementary education.
Unfortunately, about halfway through the semester, her computer died, and she ended up borrowing one from Career Pathways.
"I emailed Zach Perrine (UACCB's vice chancellor for student affairs) and asked about scholarships for a computer, and he suggested the endowment from the University of Arkansas Foundation honoring Rutherford, who is a Batesville native. This is the first year for grants to be awarded from the fund, which was established in 2021.
"He (Perrine) said this would be perfect for us because I am a student leader," de la Fuente said, explaining she attends SGA meetings and participates in events like a trash pickup on the Martin Luther King, Jr. holiday. "I want to be active at this school and involved, not just go to class and that's it.
"Zach also knew I volunteered in my community at the Pregnancy Help Center in Ash Flat, and I also make lasagna through this thing called Lasagna Love, where anybody can request a lasagna. It's not based on income, just need."
De la Fuente said she was not expecting to get chosen for the award, and when a month passed without hearing anything more about the award, she said she figured the winners had already been chosen.
"Then one day I opened my email and had an email saying I'd won, and I was so excited. I feel really honored to get this award - I just feel like I've been working really hard," she went on to say.
She said she stresses the importance of education to her children, ages 9, 8, 5, 4, and 2.
"The older girls are going into the third and fourth grades, and they are so competitive, seeing who can get more AR (Accelerated Reading) points," she said. "I tell them they need to work hard and get scholarships. Their school had an awards ceremony at school, and my oldest said, 'I wonder if I'm going to get an award like you.' It was so sweet!
"It really is important to help your kids learn so they have a better future."
De la Fuente said she hopes to become a fourth or fifth grade teacher. "That was the grade I was in that I had my favorite reading teacher. She impacted my life and made reading fun for me so maybe I can do that for another child."
About UACCB
The University of Arkansas Community College at Batesville is a comprehensive two-year community college serving Independence County and the surrounding communities with both transfer and career-technical programs. Students can complete their first two years of a bachelor's degree affordably and close-to-home, then transfer virtually anywhere. Students can also complete a credential in a variety of work-ready programs such as allied health, construction, welding, cosmetology, and more within a semester to one year. For more information call (870) 612-2000 or visit www.uaccb.edu.