From UACCB to Lyon College, first-generation student works toward goal
Posted Date - 5/12/22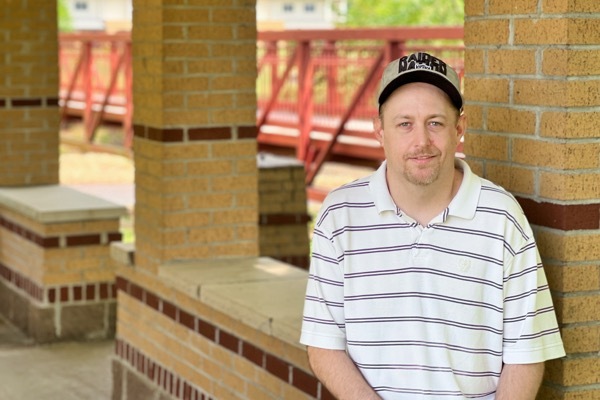 By Andrea Bruner
Twenty years ago, Lenoard Tripp missed out on walking across the high school stage to earn his diploma. On Monday, May 9, Tripp finally donned a cap and gown and crossed the stage, only now he received a college degree – with a 4.0 grade point average to boot.
Tripp, a first-generation college student, graduated with an associate of art degree from the University of Arkansas Community College at Batesville (UACCB), then will transfer to Lyon College to complete studies for his bachelor's degree.
As a little boy, Tripp had dreams of becoming a professional baseball player.
"Once I realized what the percentages were against that, I wanted to go to law school, but now when I look back on it, I think it was probably the prestige and respect that comes with the title rather than an interest in learning about the law," he said.
He said he was always a good student in elementary school, "but when I got to high school, I blew off my studies."
He said he quit playing baseball at 14 and starting around 10th grade he made a series of poor decisions that led to his dropping out of high school his senior year.
After getting his GED in 2001, he said he started working a series of factory jobs, moving back and forth from Batesville to Forrest City, where he was born and still had family.
"In 2015, I moved back to Batesville. I had gotten laid off from a job, and my sister was here. She didn't have a vehicle to get back and forth to work, so I came here to help her and stayed. The starting wage in Batesville seemed better than it was in Forrest City," Tripp said.
When the pandemic hit, he said it was like a lightbulb moment – he did not want to work for a company that would put profits over people.
"I realized I could do better and enrolled in classes for the fall," Tripp said.
Choosing UACCB was an easy decision, he continued.
"I had attended UACCB one semester and just didn't finish," he said. "I had a good experience; I just didn't finish what I started."
At Lyon, Tripp said he plans to major in psychology with hopes of being an addiction counselor. "I've had trouble in my adult life with drinking," he said. "I was able to put that behind me, and I want to help people in that same boat."
He also plans to minor in chemistry. "I took chemistry this past semester and really enjoyed it," he went on to say. "I've always been pretty decent at math, and it all made a lot of sense – I want to see how far I can go," he said.
"Dr. (Larry) Brown was my algebra teacher; he helped me with chemistry because I was taking it online and he knew I was having trouble. After he helped me with my chemistry, he reached out again to make sure I wasn't still struggling," Tripp said, adding that the faculty and staff go above and beyond to help the students.
"I've had a ton of great people who have helped me out there (at UACCB)."
He also credited Jennifer Emery, College and Life Skills Instructor at UACCB, and Thomas Tucker, Executive Director of Financial Aid at Lyon, for helping him find more than $26,000 in scholarships and awards next year.
"Almost four-fifths of my tuition is going to be taken care of by those scholarships," Tripp said.
His college career wasn't always smooth sailing, he admitted.
"I had some bumps in the road definitely," Tripp said. "One of my toughest courses was my biology class. I had not talked about science in so long I had to shake the rust off there."
But, UACCB has all the resources students could need, he added. "All I had to do was reach out to a tutor and they helped me get up to speed.
"Once I got started (college), I never questioned I was going to be able to finish," he added. "I knew if I put forth the effort everything I needed to make it to the finish line was available."
He said the hardest part was getting enough sleep and that waking up was harder some mornings than others, as Tripp also works second shift at Custom Craft Poultry.
He will be the first in his family to earn a college degree, something he wasn't always sure would be in his future but now he takes a lot of pride in, especially because he's continuing his education at Lyon.
"I'll graduate Monday. I've got a Spanish final that morning, then graduation that night."
Getting that cap and gown was a big moment for him. "And because I have a 4.0, I will have the honor chords," he said.
Tripp said he hopes he is a role model for others, but he doesn't think about that too much.
"I have nieces and nephews and it feels really good for them to see me be able to do this and put academics first," he said.