Transfer opportunities await UACCB student seeking hands-on career
Posted Date - 4/28/22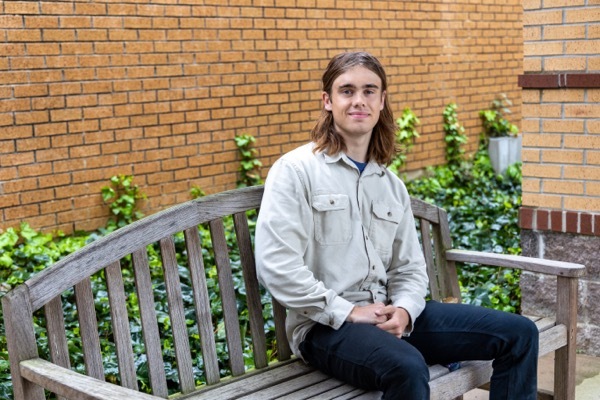 By Andrea Bruner
Whenever he was asked what he wanted to do when he grew up, Ryan Sinele said he never had a typical response like "astronaut" or "cowboy" like everyone else. He just knew he wanted to work with his hands.
But after he graduated from Batesville High School in 2020, he wasn't sure what he wanted to study or how he could make a career out of that. "A lot of people told me that it would be smarter to get my basics done first," Sinele said.
He enrolled at the University of Arkansas Community College at Batesville (UACCB) with a plan to study at home for two years then transfer this fall to a four-year institution.
"Lately I've been taking a carpentry class at UACCB, so I've been looking into something like that, and maybe doing business with it," Sinele said.
Being hands-on is a family trait, as Sinele explained: "My dad was a mechanic, his dad was a mechanic, and my grandfather worked with wood."
Sinele said when he was young, he was always into building and creating, and he loved to construct things out of Lego sets and K'Nex.
"I loved all that stuff. Every year my grandfather (Ronnie Sweet) and I would build a birdhouse to enter in the fair. That was something he let me design myself," Sinele said. "When I was little, we used to have chickens, and he and I built a chicken coop, and we built a deck on my grandparents' house together."
In high school, Sinele played football and ran track but admits he was an average student although he did make good grades.
"In college I've really picked it up and taken it a lot more seriously," he said. "I got inducted into Phi Theta Kappa," an academic honor society.
Sinele said he has surprised himself since going to college, adding with a laugh that if he could go back and talk to himself in high school, the younger version would never believe what he had accomplished already.
"Ms. Van (Taylor, transfer coordinator) especially has been more than happy to sit down with me and talk about stuff, listen to my interests, and try to find a scholarship or plan that would help me personally," he said. "They definitely have been more than eager to help me."
Sinele's mother, Jennifer Sinele, is the business officer manager at UACCB and Sinele said she too has been encouraging him every step of the way.
"In high school I was not sure if I really wanted to go on (to college), but she really talked to me and convinced me to go on. She said even if I did not go on (to a four-year institution) now, I could at least I have my basics out of the way and go later."
Sinele said at one point he had considered transferring to a technical school, following his father, Chris Sinele, and becoming an A&P (airframe and powerplant) mechanic to work on aircraft.
"He (Chris) did that at UACCB but they don't offer that program anymore."
But now, Sinele said he is considering transferring to either the University of Arkansas or Mississippi State University and studying business and project management.
Sinele, who already operates his own landscaping and car detailing operation, said he has dreams of starting his own business "that could one day turn into something big, that I could rely on, that would be more than just a part-time job outside of school."
Sinele said he has enjoyed his time at UACCB and gave the faculty and staff a lot of credit for helping him get this far.
"There are a lot of opportunities to stay after school and work together; there's a lot of study groups that have opened up. Everyone is really willing to help the students. You can tell people are there for more than just a paycheck – they know your name. It's not like you're at a big school and you're just another person walking around," he added. "It definitely feels like a family."