UACCB STEM/pre-engineering student to make the move to UA Fayetteville
Posted Date - 4/21/22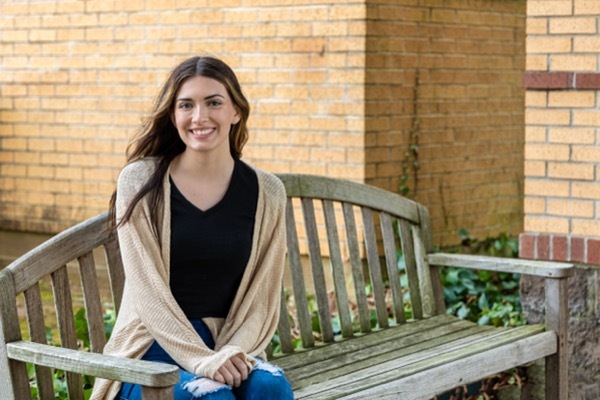 By Andrea Bruner

This May, Samera Orrantia will walk across not one but two graduation stages, one at Hillcrest High School and the other at the University of Arkansas Community College at Batesville (UACCB).
Orrantia is a concurrent college student in her last year of high school and has enough credits to earn two Associate of Science degrees, one in STEM (Science, Technology, Engineering, and Mathematics) and the other in Pre-Engineering.
Orrantia began taking concurrent classes at UACCB while in her ninth-grade year at Hillcrest. She said she had met with her high school counselor who discussed the possibility of her taking some college classes.
"I thought this would be perfect to get me ahead and put me where I wanted to be at a faster rate," she said.
"I had been attending things like Girls in STEM, and math is a subject I really love, ever since I was little," she continued, explaining that she wasn't sure wanted to teach the subject, however.
"I then learned about engineering and more specifically, biomedical engineering," and that opened new career possibilities, she said.
"I've always been good at math; there's a definite answer, even though there may be more than one way to work a problem, and that's what I loved about it."
Orrantia started with one class at a time, taking Visual Arts and Oral Communication, to get a few credits under her belt. She said as time passed, she became more confident and realized that graduating with an associate degree was attainable.
Technically, she said she has to finish one class this summer, a pre-engineering course that she could not take concurrently, but she will still get to walk at the UACCB commencement ceremony in May.
"I had talked with Ms. Tina Goodman (her academic advisor), and she got it settled," Orrantia said. "I'm really excited about it (graduating)," although she said the idea that she will have diplomas in a month's time hasn't fully sunk in yet.
Orrantia said Goodman was a big help in selecting classes and getting registered.
"She took me under her wing," Orrantia said. "I had a lot of support, and if I had questions about being concurrent, they (UACCB) try to get help me get all the information I needed, and after I'd asked these questions they told me I could come back if I had more. It made me feel like I could go to anybody and get help."
During her time at UACCB, Orrantia was also involved in the Student Government Association (SGA) both years. With Covid, some events were limited or canceled, but Orrantia said they did build and enter a float in the downtown Batesville Christmas Parade. She said SGA is currently planning a spring carnival.
This fall, Orrantia plans to transfer to the University of Arkansas in Fayetteville for her junior and senior years and after graduation possibly working at a biomedical research center such as the one at the University of Arkansas for Medical Sciences in Little Rock.
"I'm looking at my options but that seems to be a great place and I know they do great work there," she said.
Orrantia is the first person in her family to attend a four-year institution, and her hometown of Strawberry has a population of 264, so she knows moving to Fayetteville will take some adjustment. Her mom and stepfather, Karen and Preston Goodman, are supportive and tell her they know she can make it work.
Orrantia said she was shy as a child, but as she got older, she realized that wasn't going to help her in the long run, so began trying new things and putting herself out there more. "My mom had a huge hand in helping me become more ambitious. If anything happened, she was there to pick me up, dust me off and help me go on."
She also said she had a few days where she wasn't sure she wanted to continue with her concurrent coursework.
"There were moments I would get really stressed and my mom would sit with me and tell me you don't have to do this," Orrantia said.
"It would make me kind of just take a break for an hour or two and realizing this is something I really want, that you have to work to make your dreams come true."