UACCB JAG program helps student transfer to A-State
Posted Date - 4/14/22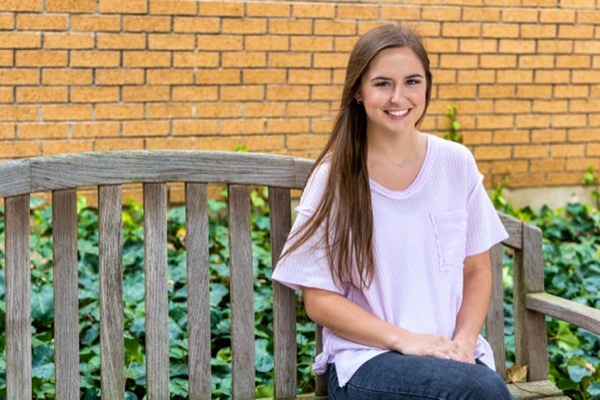 By Andrea Bruner

Kailee McGhee always knew she wanted to go into education like her parents. She loved having them home during the summers and holidays and saw many of her friends who didn't have that luxury.
"I thought, 'I want to do that for my kids,'" she said.
McGhee said her family moved to Southside from Missouri when her dad, Brad McGhee, got a job coaching the boys basketball team when McGhee was 5. Her mom, Lisa McGhee, was a teacher at Southside Preschool and now is the director there.
While McGhee spent her school career as a Southerner, she didn't have to look far to start her college career, enrolling as a freshman at the University of Arkansas Community College at Batesville (UACCB).
Originally, she said she wanted to study physical therapy, but in her junior year of high school, as part of her Family and Consumer Sciences class, she had to observe some careers, one of which was a speech therapist.
"I liked how the child figured out what they were doing wrong, like saying certain phonemes wrong, and when they figured it out, they got so excited. I felt like that (speech language pathology) would be a good career," she said.
McGhee said she played on the basketball team with some older girls who planned to attend UACCB to get their basics, then transfer to a four-year college, and she said that sounded perfect to her.
"I thought I could save money and still go to school close to home," she said. "But then I got pregnant and didn't know if I could do that."
McGhee's son was born in May 2020, and by then she'd already had 24 concurrent college hours under her belt. She said she started taking electives the summer before her sophomore year.
After the birth of her son, McGhee stayed with her plan to attend UACCB. McGhee also enrolled in the first class of the college's JAG (Jobs for Arkansas' Graduates) Early College Success Program.
"They help students look for jobs when they get out of school," McGhee said.
She said there were around 15 to 20 students in the inaugural class. JAG is a state-based nonprofit organization dedicated to supporting young people of great promise to achieve successful jobs and rewarding careers. Students who have participated in JAG in high school, those who are aging out of foster care, students who have a GED, and homeless students are eligible to participate in UACCB's JAG program.
Elizabeth Smith is the JAG college career coach at UACCB.
JAG had been in high schools for some time, Smith said. Arkansas is one of three states in the nation to have a JAG program at the college level, and Smith said there are six colleges or universities who have implemented the program.
Smith said the students on the fall 2020 roster completed 83.7% of attempted credit hours with a grade point average of 3.1, compared to students who chose not to enroll and completed 69% of attempted credit hours with a 2.3 GPA.
"So, it is successful helping students complete those hours and with a higher GPA," Smith said.
McGhee credited Smith for helping her with her résumé and applications.
"She gave me lots of tips for the future," McGhee said, explaining it went beyond that, however. "I got Covid in January of 2021. I did not have any of my books yet and was going to have to start classes online, and Ms. Smith drove my books all the way to Southside. She really cares and does anything she can to help the students, and she still checks on me to this day."
McGhee said she'd already had 24 hours of concurrent classes while in high school, so her experience as a full-time student at UACCB was much what she expected, although she did have more assignments and had to spend more time studying. But she enjoyed being close to home, where her parents could help watch her son while she studied.
After a year, she felt ready to transfer to a four-year institution, choosing Arkansas State University in Jonesboro. "I was nervous, not knowing anybody and not knowing where all the buildings were, but I found friends and started writing things down in a planner to get organized."
Now a sophomore at A-State, McGhee is majoring in communication disorders with a minor in psychology.
She said she schedules classes on Mondays, Wednesdays, and Fridays or on Tuesdays and Thursdays to limit the number of days she has to drive to Jonesboro.
She also works at the Southside Preschool.
"I'm a single mom, and sometimes it's hard but I do live with my parents, and they will take him and play with him and watch him while I'm studying. He loves to try to play on my computer," McGhee said with a laugh.
Smith said McGhee is one of two UACCB JAG students who have seen successful in transferring to four-year colleges.
"Because of Kailee, we are creating an alumni association for JAG so they can come back and talk to and hopefully mentor the current students," Smith went on to say. "She's got that drive, that determination, and that grit – she's very resilient."
To learn more about JAG, students can visit the JAG Early College Success page under Students then Resources at www.uaccb.edu.
The University of Arkansas Community College at Batesville is a comprehensive two-year community college serving Independence County and the surrounding communities with both transfer and career-technical programs. Students can complete their first two years of a bachelor's degree affordably and close-to-home, then transfer virtually anywhere. Students can also complete a credential in a variety of work-ready programs such as allied health, construction, welding, cosmetology, and more within a semester to one year. For more information call (870) 612-2000 or visit www.uaccb.edu.