Fulfilling the Dream - UACCB Early Childhood Education Student Stays the Course
Posted Date - 2/28/22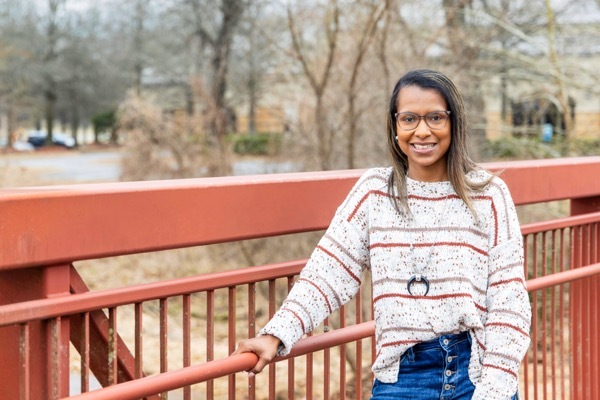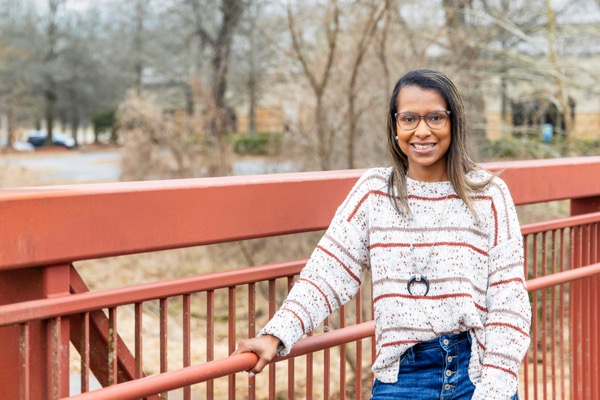 Editor's Note: In honor of Black History Month, the University of Arkansas Community College at Batesville would like to highlight some of its outstanding students and their successes. This is the second in a two-part series.

By Andrea Bruner
Lillian Bishop was told more than once that college would not be possible for her. She struggled in school particularly with math and was placed in special education classes. In IEP (Individualized Education Program) meetings with her parents, the specialists would tell Timothy and Shirley Murrell there was no way their daughter could pursue college and obtain a degree.
After Bishop graduated from high school, the Arkansas Rehabilitation Services agreed with the IEP providers' assessment, saying her test scores were too low and perhaps she could be a preschool teaching assistant, but college would be out of her reach.
"My parents were like, 'There's something beyond her test scores,'" Bishop said. With their encouragement, Bishop found success at the University of Arkansas Community College at Batesville (UACCB), where she will graduate in May with her associate degree.
Even without her learning disabilities, Bishop's path to college was rocky. Born in Mount Pleasant, Texas, Bishop said she was taken away from her birth mother and placed into foster care when she was 2 ½.
At age 5, she and her four sisters were adopted, and they were in an accident that claimed the life of their adopted mother. A few years later their dad remarried a woman from St. Louis and they decided to move to Arkansas, which would be halfway between Texas and St. Louis.
Bishop was 12 when her parents moved their family to Batesville in November 2007. "We moved on Thanksgiving Day. We were unpacking our stuff from the U-Haul, and we had family here for Thanksgiving. We didn't have our beds set up so we were sleeping on mattresses - it was hectic," she said with a laugh.
But even at a young age, Bishop knew she wanted to be a kindergarten teacher. "When me and my sisters would play school, I was always the teacher," and she knew she wanted to teach the younger ages, Bishop said.
High school wasn't exactly easy, but Bishop said she studied hard and pushed through. She also knew she wanted to attend college out of town, on her own, and stay in a dorm. So it was a dream come true when she graduated high school in 2016 and received scholarship money to do just that, although her parents asked her to stay closer to home.
"I wanted to be on my own," Bishop said. But during her first semester, she said she had conflicts with her roommate and developed stress-related seizures.
"It was not a good situation," she said, and she returned home that December, feeling that her career plans had come to an abrupt halt. "I felt like a failure, that I was wasting my time."
With some encouragement, she said she signed up for a few classes at UACCB to get some of the basics under her belt, explaining that she still wanted to pursue her hopes of being a teacher.
Bishop soon discovered that UACCB was not only close to home but it was also more affordable and she felt more connected to the instructors.
"The teachers at UACCB worked more one-on-one with me and they truly cared about me," she said. "Although I have always aspired to be a kindergarten teacher, I feel now that I have found my niche with the younger children. Early Childhood Education is really a good fit for me."
She also said the college helped improve her study habits. "The Student Success Center has changed my entire life," she said about the free tutoring program offered to all UACCB students. "I was struggling and thinking I would not get through it. I had heard about the Student Success Center and they helped me, and they're open till 9 o'clock at night and on the weekend."
The late hours worked well with Bishop's schedule, as she is currently a full-time assistant teacher at Sulphur Rock Early Head Start. Bishop said she started to work there about five years ago. "When I came to Batesville, I went to work at Goodwill and that summer, at the end of July, I got the job at Head Start," she said. "I started out as kitchen help and later an assistant teacher job came up. I got that job and they suggested I get my CDA."
Things went as planned until last semester when Bishop was fulfilling her math requirement. "I told my parents I was going to have to drop, but they kept pushing me and said I only need a 75 C to pass, and then I was done. I pushed through and passed that class."
Bishop credited Makayla Candler, adjunct instructor of mathematics, for helping her get through the class.
"She was such an encouragement the entire semester," Bishop said. "She started teaching on the whiteboard and then another student suggested making Blackboard videos so we could go home and look back on the videos for help. Ms. Candler said she'd never seen such good grades in that class before, and it was because we could rewatch the videos."
Also cheering her on is her husband of three years, Tyler Bishop. "He's been supportive" of her going back to school.
Bishop said there is a part of her that would like those who didn't believe in her to look at what she's accomplished. As she put it, "A test score and IQ doesn't mean nothing," she said, and they do not define who she is.
To others in a similar position, Bishop said she would tell them: "When you have a dream, just do it, keep on, push through and don't let anyone stop you."
"Moving to Batesville was a blessing," she said. "My learning limitations could've stopped me from achieving my dream. Sometimes I didn't even believe in myself and it would've been easy to give up when things got hard and difficult.
"But I didn't. So by the grace of God and with the help of my parents and strong supporters, I have become the person I am today. And I'm not looking back."