Wright joins UACCB board of visitors
Posted Date - 2/3/21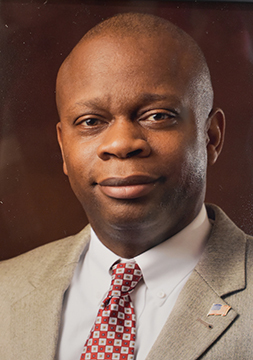 It is said that a true leader must have a servant's heart. Calvin Wright, manager of the Batesville Home Depot store, is the embodiment of this ideal. In addition to a number of community service roles, Wright recently became the newest member of the University of Arkansas Community College at Batesville board of visitors.


A native of Augusta, Wright said he was steeped in the value of community from an early age. "I believe in community. That's how I was raised. It's the culture I've always been surrounded by from family to college to my position at Home Depot," Wright said. "One of the core values at Home Depot is giving back to the community, and I want to work hard to fulfill that mission in the Batesville community."


Wright graduated from Augusta High School and went on to earn his master of business administration from Harding University. He worked as the human resources manager for White River Rural Health, now ARCare, before taking a position as human resources manager at Home Depot in Batesville. He was promoted to assistant manager and eventually store manager. "I've been blessed to be able to advance in one location," Wright said. "Normally in retail you have to relocate. I was just in the right place at the right time to be offered this opportunity."


Wright said Home Depot's investment in community service is one of things he values most as an employee of the company. Team Depot, The Home Depot's associate volunteer force, donates their time to help The Home Depot Foundation improve veteran homes and facilities and serve communities impacted by natural disasters. Wright has also had the opportunity to participate in volunteer efforts with the Arkansas Sheriff's Youth Ranch, the March of Dimes, and local school districts.


"I believe you should treat others the way you want to be treated and that you should support others if they have a need in any way that you can. It's the right thing to do," he said.


Wright said he was honored when he was asked to join UACCB's board of visitors. "It's great that Batesville has this institution where students can gain the skills they need to be able to make a better life for themselves and advance in the workplace. Ms. Frazier and the faculty and staff are so passionate about what they do. It's very impressive," he said. "UACCB made a great impression on me when I was previously asked to be a guest speaker at a Martin Luther King Jr. event. I've also been involved with the college through career fairs, and as a local employer, we've hired UACCB current students and graduates. To be involved in UACCB in this capacity is amazing."


In addition to serving on UACCB board of visitors, Wright is also a member of the advisory board for Batesville Parks and Recreation; the advisory board for White River Medical Center; and the board of directors for the Batesville Area Chamber of Commerce. Wright is also a 2016 graduate of the Batesville Area Leadership Program. "That was a great networking opportunity that led to me being a part of so many great organizations," Wright said.


Looking to the future, Wright said if he had his way, he would stay in Batesville and retire. "The community and the organizations I have become a part of have made me feel so welcomed. It would be hard to ever leave the community."