Grant funding providing additional educational opportunities for UACCB faculty, students
Posted Date - 2/4/21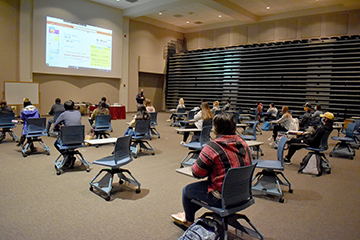 Faculty and staff at the University of Arkansas Community College at Batesville shared details with the board of visitors about the Better Teaching for Better Learning project taking shape thanks to a $2.25 million Title III Strengthening Institution Program (SIP) grant award from the U.S. Department of Education during the board's quarterly meeting Jan. 21.


The Strengthening Institution Program is designed to help higher education institutions expand their capacity to serve at-risk students by providing funds to improve and strengthen the institution's academic quality, institutional management and fiscal stability. UACCB's Better Teaching for Better Learning project evolved with the campus integration of Guided Pathways.


The five-year grant will provide funding to allow faculty to participate and gain certification from Quality Matters (QM), a nonprofit organization with the mission of promoting and improving the quality of online education and student learning, as well as the Association of College and University Educators (ACUE). According to the organization's website, "the ACUE prepares, credentials, and provides on-going support to faculty in the use of evidence-based teaching practices that promote student engagement, persistence to graduation, career readiness, and deeper levels of learning."


Dr. Anne Austin has assumed the role as Project Director for the grant. Austin said the first cohort of faculty have enrolled in a pedagogy course through ACUE. "This is a great opportunity to have a consistent and sustained method to assist faculty with their skills and abilities to teach," she said.


Through the grant, UACCB faculty will also have the opportunity to receive training on utilizing reports through Blackboard Analytics. The reporting will allow earlier identification of student needs and student interventions. This effort should increase student academic success and improve student persistence and retention. Tiffany Guinnip will serve as the Blackboard Analytics coordinator for the grant. Guinnip said, "I'm very excited to work with the faculty and share how they can use data to make improvements in their classrooms through data-driven decisions," she said.


In addition, a Center for Teaching and Learning Excellence will be developed, which will support inquiry and access to the most current and innovative teaching and learning techniques. Dr. Andrew Seely, a biology faculty member, will serve as the director for the Center for Teaching and Learning Excellence. "The faculty are very enthusiastic to be participating in this grant opportunity," Seely said.


Blayne Stewart will serve as the Teaching and Technology Support Coordinator through the grant. "This grant will allow us to change the way classrooms are using technology," Stewart said. "As a technology instructor, I can only impact a small group of students. Through this position, I can make a much larger impact, which is important to me."


An administrative analyst will also be hired. The funding to assist in the development and redesign of educational materials utilizing Open Educational Resources (OER) will also be provided through the Title III grant.


"We are thrilled to receive news of the grant award," said Chancellor Deborah Frazier. "Since March, the UACCB faculty and staff have demonstrated resilience and a strong desire to engage and encourage students during challenging and difficult times. The Title III grant will allow the institution to create teaching and learning environments with one focus, academic student success, which is the key motivator that drives our campus community."


Frazier added that with members of the institution assuming positions through the grant, it provided the administration with the opportunity to review and make revisions to the organizational structure of the college. In addition to becoming the grant Project Director, Austin, who previously served as the Vice Chancellor of Research, Planning, and Assessment, will now be the Executive Director of Special Projects. Through this position, Austin serves as the Higher Learning Commission Liaison, Perkins Coordinator, Assessment Coordinator, Legislative Liaison and other duties as assigned. The Executive Director of Special Projects will also be an ex-officio member of the administrative cabinet. Offices once under the research, planning, and assessment division will transition to other departments on campus. Information Services will transition to the office of finance and administration and the registrar's office will fall under the student affairs division. Frazier noted that academic advising is now a part of the student affairs division as well.


Mandy Walker was selected as the new Vice Chancellor of Finance and Administration in December 2020. Walker previously served the college as controller and recommended two changes to the business office. The first would transition payroll services out of the business office and into the human resources division. The second would convert the controller's position to a business office manager position.


Following Frazier's presentation, the board voted to approve the organizational restructuring as presented.


Brian Shonk, Vice Chancellor for Academic Affairs, reported that the college had also received funding from Governor Asa Hutchinson's Ready for Life initiative. Gov. Hutchinson has allocated $14.7 million in federal Governor's Emergency Education Relief Funds in support of Ready for Life, which is a partnership with the Arkansas Chamber of Commerce, Arkansas Economic Development Commission, the Division of Workforce Services, K-12, and Institutions of Higher Education. Hutchinson said during a press conference that Ready for Life is an initiative for those who want to improve their skills or change careers as well as gather career and employment data from business and industry.


Shonk said the college received $160,000 from the Ready for Life initiative. The funds will be used to develop a patient care technician program that can be completed in one semester. A portion of the funds have been set aside to help students pay for supplies needed for the program including scrubs. Shonk said a phlebotomy course was added to the curriculum to create the patient care technician program. He added the program could tentatively start this summer but would definitely be ready for the fall 2021semester.


Zach Perrine, Vice Chancellor for Student Affairs, provided a preliminary enrollment report for the spring 2021 semester. Headcount was reported at 985 students taking 10,244 student semester credit hours. Perrine said that students were taking fuller course loads, which was a positive indicator. UACCB conducted a campus pulse survey in the fall 2020 semester. Perrine said the college receive more than 100 student responses to the survey and that approximately 70% of students reported their preferred learning method was in-person classes. Shonk added that the college had seen no spike in students taking online courses as a result of the COVID-19 pandemic. "Students taking fully online courses is consistent with our pre-COVID numbers," Shonk said. "Around 70% of our students are taking in-person classes and 30% are attending through online courses."


For the 2021 spring semester, class sizes for composition, literature, and basic skills classes were capped at 20 students maintaining social distance within regular classroom spaces. Five larger areas identified on campus are being utilized for classes larger than 20. These include the lecture hall in Independence Hall; two banquet halls and the auditorium in Independence Hall; the lecture hall in the Nursing and Allied Health building; and the combined classroom space in rooms 927/928 in the Nursing and Allied Health building traditionally used for the larger registered nursing classes.


Math, science, history, psychology, and philosophy lecture classes were moved into these larger spaces, Shonk said. Online class options will be maintained and online capacity will be increased as needed. Should it become necessary, Shonk said the institution would be able to quickly transition back to a hybrid or fully remote learning model.


In other business, the board of visitors:


• Heard a financial update from Walker. The college received approximately $148,000 more than projected in sales tax revenue last fiscal year. She added that trend seems to be continuing this year. Walker said the college would receive a distribution of federal Coronavirus Response and Relief Supplemental Appropriations (CRRSA) funding in addition to the more than $1 million in CARES Act funds already received. The college also received more than $107,000 for the purchase of personal protective equipment to provide to the campus community.


• Received an introduction to Valerie Bennett, the new Administrative Assistant to Academic Affairs. Bennett, a U.S. Navy veteran, joined the UACCB staff on Dec. 1, 2020.
• Voted to approve the meeting minutes from the Oct. 15, 2020 quarterly meeting.
Prior to adjourning, board member Ted Hall thanked Frazier, Tammy Smith and Dr. Deltha Sharp for their assistance with the Christmas Brings Hope project. The late Dr. Tamara Griffin, former Division Chair for Business, Technology, and Public Service, had been actively involved in the project. After a 12 year battle with cancer, Griffin passed away June 3, 2020. Hall thanked the group for continuing Griffin's work with the project.