Cooper retires from career in higher education finance
Posted Date - 1/11/21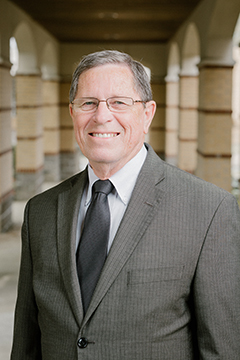 As a first-generation college student, Gayle Cooper never imagined that he'd spend a lifetime working in higher education finance and administration, but that's exactly where his professional path would lead him.


A native of Melbourne, Cooper earned his bachelor's degree in business administration from Lyon College; a master's degree in vocational technical administration from Arkansas State University; and a specialist degree in community college teaching from ASU.


He became a licensed abstractor while working for Rep. John Miller at his title abstract office in Melbourne. In July 1975, Cooper entered the realm of higher education when he began working as a bookkeeper at Ozarka College. He was later promoted to vice chancellor of finance as the college progressed and provided oversight for the college's maintenance, auxiliary, human resources, and purchasing responsibilities.
In July 2008, Cooper became the vice chancellor for finance and administration at the University of Arkansas Community College at Batesville. "I've always been fortunate to have a position where I was able to do what I like to do. I like numbers. Things have changed so much over the years. When I started out at Ozarka, I wrote in a ledger," he said.
During his 12-plus years at UACCB, Cooper said he had two accomplishments that he was most proud of — the completion of the Nursing and Allied Health building and the new Workforce Training Center. The nursing building allowed for expansion of the nursing and allied health programs along with providing space for simulation training that gives students real-world experience in a controlled environment. The Workforce Training Center is state-of-the-art, Cooper said, and gives students seeking employment in trade fields the training they need to secure jobs in high-demand fields.
"It's a good feeling to know that people looking for occupations in those fields can get the training they need right here at UACCB," Cooper said.


UACCB Chancellor Deborah Frazier said the Cooper's extensive knowledge of higher education finance and steadfast dedication to the institution has made a significant impact on the campus community.


"Mr. Cooper's contributions to the University of Arkansas Community College at Batesville will certainly be long lasting," Frazier said. "His knowledge and insight of higher education finance and administration has been a vital asset to UACCB. His stewardship of tuition, state and local tax dollars not only ensured the college was financially stable but allowed UACCB to meet its mission of providing quality educational opportunities for the region. Through his guidance and leadership, the campus has grown and added state-of-the-art facilities and equipment that provide students with a technologically advanced learning experience. He has grounded his career in the belief that hard work and ethic decisions would prevail at the end of the day. Mr. Cooper has always proven himself to be a genuine friend to the students, faculty and staff at UACCB."


Cooper's career has not been limited to managing finances for college institutions. He's also served in the classroom as an instructor. He taught graduate-level classes at ASU in student services and taught accounting classes through the community education division at Ozarka. He said his career in higher education has taught him much more than just academic acumen.


"Being able to listen is very important. You must learn not to make judgments until you fully understand the situation," Cooper said. "Learn to trust your employees and empower those employees. You have to stay up-to-date. This is a lifelong learning process. You have to continue to grow both personally and professionally. This not only helps you but also your employees and the institution."


Cooper plans to continue his entrepreneurial pursuits during retirement. He owns Cooper Antiques in Melbourne. "Antiquing and flea markets are a passion I didn't know I had," Cooper said. "One thing I plan to do is attend more auctions." He added that he also plans to continue with his tax preparation practice.
Cooper also said he's looking forward to more time with his family and for volunteer endeavors. He and his wife Carol have a son and daughter-in-law, Micah and Candi; a daughter, Amy; and four grandchildren, Jaden Cooper, Dawson Cooper, Avery Cooper, and Darby Johnson. "I expect I'll be attending a lot more ball games," Cooper said. He also serves as a deacon and assistant music director at First Baptist Church in Melbourne and helps with the church's financial activities.