UACCB will hold in-person classes for spring 2021 semester
Posted Date - 12/21/20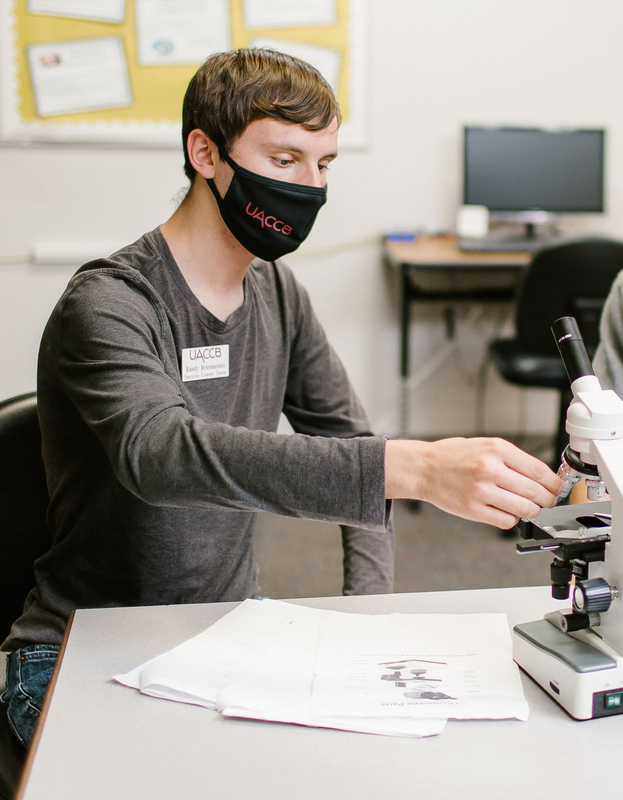 This year has allowed the tenacious and adaptive spirit of the campus community at the University of Arkansas Community College at Batesville to shine. Students, faculty, and staff readily accepted necessary precautions to prevent the spread of COVID-19 such as wearing face coverings and maintaining a six-foot social distance and adjusted to a new "hyflex" model of teaching for the fall 2020 semester. Course instruction has been conducted through a combination of on-campus teaching and asynchronous instruction via Blackboard Collaborate, an online learning platform.


Armed with knowledge gleaned from the fall semester along with student feedback, UACCB is preparing to offer in-person classes for the spring 2021 semester. In November, the University of Arkansas System board of trustees issued a resolution encouraging system institutions to offer face-to-face instruction for the spring semester. "The board directs the president and chancellors across the UA System to work with faculty leadership to facilitate an increase in the return to face-to-face instructions with a goal of returning as many formerly traditional courses to face-to-face instruction (entirely or hybrid) as is safely possible during the spring 2021 semester," the resolution stated. Guidelines and directives from state and federal government entities including the Center for Disease Control regarding COVID-19 will continue to be followed. The resolution also instructs institutions to retain plans for shifting to remote or hybrid instructional delivery methods if necessary.
"We are extremely proud of our faculty, staff, and students for their resilience during the fall semester, and we commend them for their hard work and determination to maintain the highest levels of teaching and learning during difficult times," said Brian Shonk, vice chancellor for academic affairs. "We are excited to have students returning to full in-person instruction in the spring semester, and I wish to thank all who have helped in the planning and preparation for a return to an in-person experience."
For the 2021 spring semester, class sizes for composition, literature, and basic skills classes will be capped at 20 students, reduced from 25, to be able to maintain social distancing in regular classroom spaces. Five larger areas have been identified on campus that will be utilized for classes larger than 20. These include the lecture hall in Independence Hall; two banquet halls and the auditorium in Independence Hall; the lecture hall in the Nursing and Allied Health building; and the combined classroom space in rooms 927/928 in the Nursing and Allied Health building traditionally used for the larger registered nursing classes.


Math, science, history, psychology, and philosophy lecture classes will be moved into one of these larger spaces, Shonk said. "Fortunately, no time slot on the spring schedule has more than five of these sections, so space should not be an issue for them, and we do not anticipate the need to adjust any class times," he added.
Online class options will be maintained and online capacity will be increased as needed. Should it become necessary, Shonk said the institution would be able to quickly transition back to a hybrid or fully remote learning model.


Student input from a "Campus Pulse" survey was also taken into consideration when making the decision to make a full return to in-person classes. Of the 124 student responses received, 85.5% said they were satisfied or very satisfied with how campus has operated during the COVID-19 pandemic. In regard to safety protocols put into place on campus regarding COVID-19, 84.7% of students who responded to the survey said they were comfortable or very comfortable taking in-person classes on campus, and 64% said in-person learning was their preferred method of learning.
"We have listened to students and heard what they need to have the best experience – and that is in-person learning," said Zach Perrine, vice chancellor for student affairs. "The great thing is that we developed new ways to interact and stay safe in fall that will carry over to spring 2021. The support is here, and we are ready for the students to be back."


The UACCB Student Government Association also conducted in-person polling of approximately 65 current students. When presented with the options of taking classes via the hyflex model, in-person, or online, they were evenly split between hyflex and in-person with only four students choosing fully online classes as their preferred method of instruction.


Briar Bumpous, SGA president, said he thought hybrid learning has added new and beneficial qualities to UACCB instructional models. "I think students are going to enjoy some qualities that we've gained from the hybrid format. For example, the recorded lectures have been great. I have all the lessons right there, so I can go back and review the material at any time," he said. "I think this time has only made UACCB better. We've adapted well. I've spoken to students on campus and asked if they are having any trouble or if there's anything that could make it better. No one has had any issues."
Spring 2021 registration continues until Jan. 8. Potential students can call (870) 612-2000 or visit www.uaccb.edu to apply for admissions. Socially distanced campus tours are available. Classes start Jan. 11.
"UACCB faculty and staff are committed to your success and ready to help you get started and achieve your educational goals," Perrine said.