Sherrie Gunther wins Outstanding Staff Award from UACCB
Posted Date - 9/30/20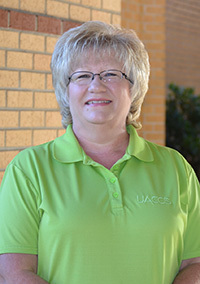 By Jeanni Brosius
Freelance Writer
Sherrie Gunther believes in the importance of education and has always loved learning new things and accepting challenges that come her way. Gunther was recently awarded the Outstanding Staff award from the University of Arkansas Community College at Batesville, where she is the assistant to the vice chancellor for finance and administration.


Her coworkers said Gunther is always there to help with a smile.
Gunther joined UACCB in January 2009 as a part-time assistant in the human resource office. She began working full time in June 2010 in the business office as a cashier, then moved to the finance and administration office in October 2017.
"When the opportunity came up to work at UACCB, it was a dream come true," Gunther said.


Gunther was born in Yuma, Ariz. and moved to Arkansas in 1966. She was valedictorian of her graduating class at Cushman High School in 1978. After graduation, she attended Gateway Vocational School. For 13 years after graduating from Gateway, Gunther said she worked in various office positions. Later in 1992, she took a detour and attended BeeJays Hairstyling Academy. She pursued a dream of becoming a hairstylist and in 1994, she opened a salon in Cushman called Family Traditions Salon, where she worked until December 2006. She has also earned several certifications along the way.
In addition to her educational career, Gunther is a mother and grandmother. She and her husband are pastors at The Rock Outreach Church in Cushman, where they have served their community since 1997.
The purpose of the Outstanding Staff Award is to recognize staff members who demonstrate outstanding dedication, service and commitment to UACCB. To be eligible, nominees must have completed at least two years of continuous service to the college.


"Sherrie consistently provides great customer service for students, staff and faculty. She is always ready to help whenever asked and completes all tasks with a smile," wrote one of Gunther's nominators.
Other peers commented on their nomination forms, "Her attitude, demeanor and merit goes above and beyond the expectations of her position," and, "She is not afraid to take on a new task. Once she knows the process of work to be done, she tackles it, and she will successfully complete that task every time."