UACCB Library Director Wins Community Person in Literacy Award
Posted Date - 6/17/20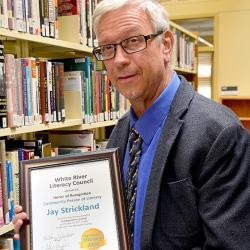 Libraries have always played a role in Jay Strickland's life. The son of a high school librarian who later became the library director at a community college, Strickland has served as the library director at the University of Arkansas Community College at Batesville for five years. His wife, Angie, was also an elementary school librarian for several years.
"When I became a librarian, I said I was joining the family business," Strickland said. "Libraries have always played a prominent role in my life. In church, if I was not in class or service, I was in the church library."


Because of his dedication to providing informative and reliable literary sources to the students, staff and faculty at UACCB, Strickland was recognized by the White River Literacy Council as the 2020 Community Person in Literacy. Each year the White River Literacy Council, an affiliate of the Arkansas Literacy Association, chooses four honorees in the following areas: Administrator in Literacy, Teacher in Literacy, Organization/Leader in Literacy, and Community Person in Literacy. Honorees are chosen from the Independence County area and honored for their love of literacy. Strickland along with the other honorees was recognized via Zoom on May 21.


"It is an extreme honor to be recognized for the small part that I do," Strickland said. "It is very humbling. My position at UACCB has given me the opportunity to do so many different things. It's been a great blessing to me."


Strickland said his focus is on ensuring students can find reliable sources of information and teaching them how to utilize the library and its resources to achieve better results in their research.


"Google is a great place to find a lot of information, but it's a popularity contest," Strickland said. "I teach students how to search through the library's books and databases to find trustworthy sources of information."


While libraries are not used in the same ways they once were, Strickland said they are far from obsolete. "We have to find out how to deliver the information in the ways that people are now consuming it. But libraries are not dead. I'm a big believer in serendipity. I love when you're wandering the stacks in a library and there's a book there that you didn't even know existed before, but you happen upon it, and it changes your life."